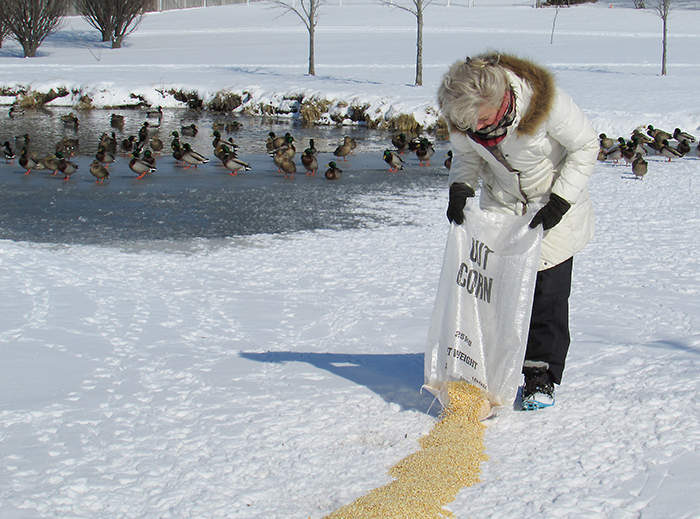 The ducks have returned to a small open area of Mud Creek. So too has Carmen McCauley.
For 14 years, McCauley, a retired widow, has fed the congregation of ducks cracked corn during the coldest weeks of the season.
But she can't do it alone. McCauley is again asking for help, either by volunteering or donating to help pay for the cracked corn.
She dumps out one 55-pound bag of cracked corn each day to feed between 100 and 175 ducks.
McCauley said if she didn't do it, many would starve to death.
"They have to keep paddling to keep that water open," she said. "But they have no food. They just keep working away until they have no energy left."
When McCauley visits the site, just north of Tweedsmuir Avenue, the ducks hang back, but don't retreat the way they often do when other humans walk nearby.
They wait; they wait for McCauley to slice open the top of a bag of cracked corn and spread a line of feed out for them.
Then they flock en masse to chow down.
McCauley said she learned of the plight of the ducks of Mud Creek when she volunteered at Maynard Avian Rehabilitation back in 2008.
"I was sent in one morning to clean the cages, and the cages were filled with sad, little ducks," she said. "People were just picking them up and bringing them in. They were that starved."
McCauley discovered most of the starving ducks were coming from Mud Creek, and she decided to tackle the issue at the source; feed the birds where they lived.
So, for the past 14 years, when the temperature dips, McCauley keeps an eye out on the ducks. She waits as long as possible, and then acts.
She needs help, McCauley said; help dragging the heavy bags down to the ducks and help paying for all the feed.
To reach out to McCauley, interested volunteers and supporters can e-mail her at helptheducks@outlook.com.
McCauley said she's heard from naysayers who have told her that if she didn't feed the ducks, they'd head south. But she said that's just not the case.
"There are quite a few ducks that don't migrate," she said.
Supporters generally far outnumber the naysayers. She in the past has received aid in many ways, including people purchasing and distributing the cracked corn on their own, as well as those donating cheques, and even a gift card in her mailbox.
Others, after reading about the plight of the ducks in The Chatham Voice in the past, take to feeding ducks on creeks behind their homes, which McCauley called "super nice."
For those who take it upon themselves to feed the ducks, McCauley said the best way is to get within about 10 yards of the open water and to spread the cracked corn out in the long line.
"It's like creating a (feeding) trough," she said.
For McCauley, who will go to Mud Creek from now until close to spring, any aid is appreciated.
"I'll feed them from now until the creek thaws," she said.