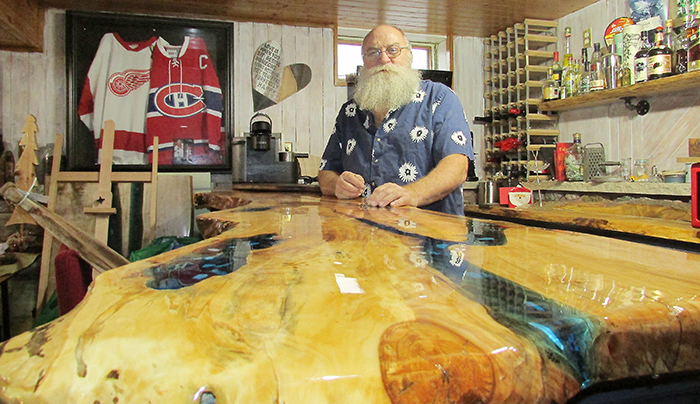 Some people might have looked at their lives in pieces, but Chatham's Yvon Robichaud instead created Pa's Pieces.
The business came to be after Robichaud was laid off from his job due to a lack of supply of parts and materials from China…about a month before the full force of COVID-19 hit the world.
For many, they'd have been staring at the pieces of their lives that were suddenly scattered in front of them. But for Robichaud, he retooled and took inventory, opting to start his own business.
Robichaud, affectionately known to friends and family as "Pa," hasn't looked back.
"It's just a lot of fun. This is a way to keep myself out of trouble. It helps to earn a few dollars too," he said.
Pa's Pieces essentially evolved out of a failure; a failure by Robichaud and his wife Dava to find a kitchen upgrade to their liking.
"We shopped around and found people wanted $4,500 for a simple shelf and cupboards," he said.
Instead, the Robichauds discovered someone in the area who was selling live-edge boards – rough-cut boards with the uneven outside edge still attached.
"They had cut down a big maple tree in their backyard and had somebody slice the tree into boards. They'd made some stuff with them and the rest they didn't need," Robichaud explained. "We bought three or four pieces of them."
That led to him making a coffee bar for their kitchen and a new top for their downstairs bar. He used epoxy and more to fill in the cracks.
"We had collected some beach glass. The board had splits in the wood. I carved them all out and filled them in with beach glass."
The project what such a hit that his wife suggested he make other items.
"The next thing you know, people are asking me to make stuff," he said.
Having been an auto body man for years, Robichaud said using epoxy is nothing new to him. But using it with wood is certainly different.
Robichaud said he learned quickly on improving the molds for his projects, as he initially tried wood and tape, but separating the pieces from the mold was an immediate challenge.
Enter puckboard. Robichaud uses the same material that adorns the boards of hockey rinks everywhere.
Armed with much better molds, Robichaud has delivered unique items for customers.
Robichaud and his wife, who paints, showcase their work online and through the Art and Heirloom Shoppe in downtown Chatham.
"People come into the Heirloom Shoppe and see one, and they'll say they want it in a different colour and with different items in it," Robichaud said, as every project is a bit different from the previous one.
To date, the largest items he's made are in his own house, in the form of the coffee bar and bar top. But that could soon change.
"I have some wood drying right now. Two guys want to have a desktop made. Those will be this winter's projects," Robichaud said.
Also on deck is a small coffee table…with coffee beans in the epoxy.
He's done another project with spent shell casings rather than seashells.
"It was a custom piece I made for someone who married a military man who loves to hunt and fish on his off time," Robichaud said. "I built a couple of stools with shell casings and fishing lures inside."
Creativity has come fairly naturally to him during the process, but he admits the customers help as well.
"You do odd things that you wouldn't think of doing yourself until someone asks you to do it," he said. "Other times, you just look at a piece of wood and you see something in it."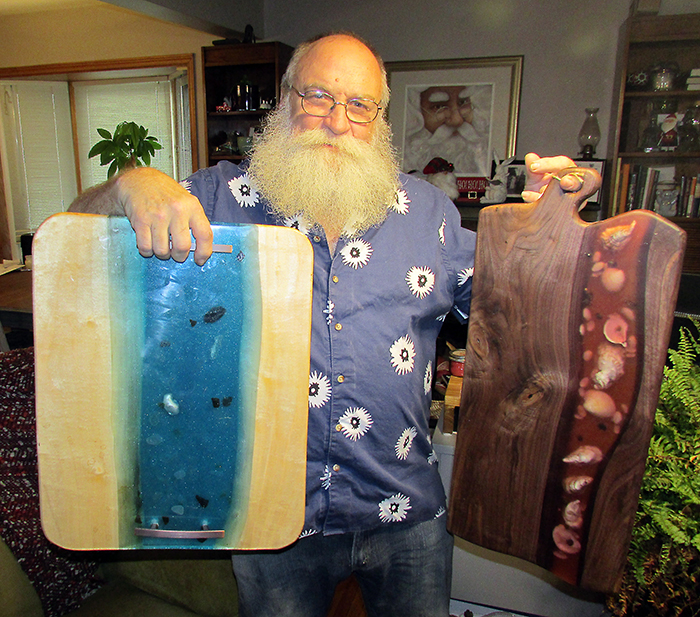 Comments
comments