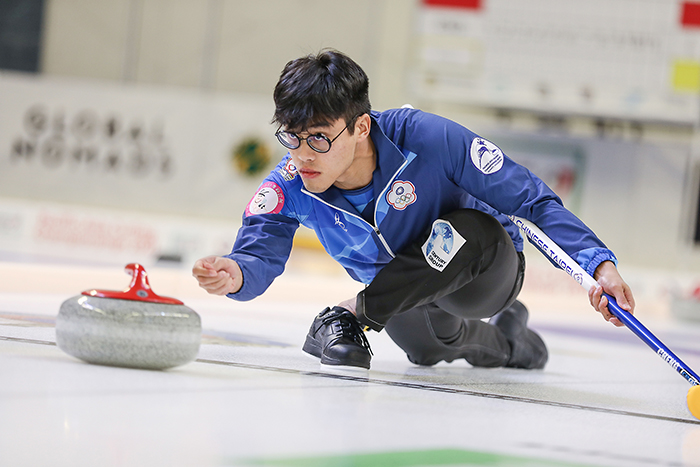 Taiwan's Kevin Cheng fell in love with curing in Chatham
In perhaps the ultimate exchange student experience, Taiwan's Kevin Cheng dreams of one day curling in the Olympics for his country, and credits it all to his exposure to the sport during his short time in Chatham.
Cheng spent time as an exchange student here from 2017-2019. He came over as an exchange students and experienced Grade 11 and 12 at Chatham-Kent Secondary School.
As he was being immersed in all things Canadian in 2017 by his host family, the Edmondstones, he took to the curling rink and fell in love.
"I started curling because of my host family, my host dad, Paul (Edmondstone), who introduced the sport to me," Cheng said. "I just felt that as an exchange student, I should definitely try anything that I could never try back home, so I started learning to curl with my host brother, Joffre, at the junior curling program every week at the Chatham Granite Club."
Cheng, now 19, and the lead on Team Taiwania men's curling team, said he played in the Friday night league here and tried out for the CKSS curling team.
"Although I didn't make the school team, I met great friends, people and coaches throughout the experience. I felt really lucky to get to meet people who curled and I started getting seriously into curling because of that," he said.
Cheng, now a student at the University of Toronto, returned to Chatham for a second year, completing his high school here, and delving deeper into curling. He said his second host dad here, Darren Beuckelare, gave him his first curling broom for Christmas.
When Cheng went off to university, the curling bug followed him. He joined the development program in a Toronto curling club, and connected with the U of T's developmental curling team.
"It was a hard experience. I had to take public transportation and walk to the club during my spare time," he said.
As COVID spread around the world in 2020, Cheng said he returned to Taiwan and met Team Taiwania's team captain, Ting-Li Lin. Everything advanced quickly from there.
"We had an online meeting with the other teammates (Nelson Wang and Luis Yin), and we decided to move to Minneapolis as a team, training for the upcoming season while I was still taking online courses," Cheng said.
He said he's so grateful to have picked up a broom and thrown his first rocks.
"Getting into curling was the best decision I have ever made in my life. Not only was I able to meet all the great people during the experience, but it also let me get more into Canadian culture and to actually comprehend the spirit of curling," he said.
His love of the sport stems from the excellent gamesmanship everyone on the rink shows, as well as the blend of individualism and team play.
"This is the charm of curling; people still shake hands with opponents even when they lose. It's different than other sports. Curling is a comparatively low intensity sport," he said. "In curling, individual skill doesn't represent the whole team performance. In order to make a good shot, every single team member is involved and responsible for it. The communication during each shot makes the game much more interesting."
Cheng hopes to let curling take him as far as it will let him.
"For our team, we would like to bring Taiwanese curling to the next level and to qualify for the Olympics. However ambitious it sounds, that's our ultimate goal," he said.
And that goal, for Cheng, began here in Chatham.