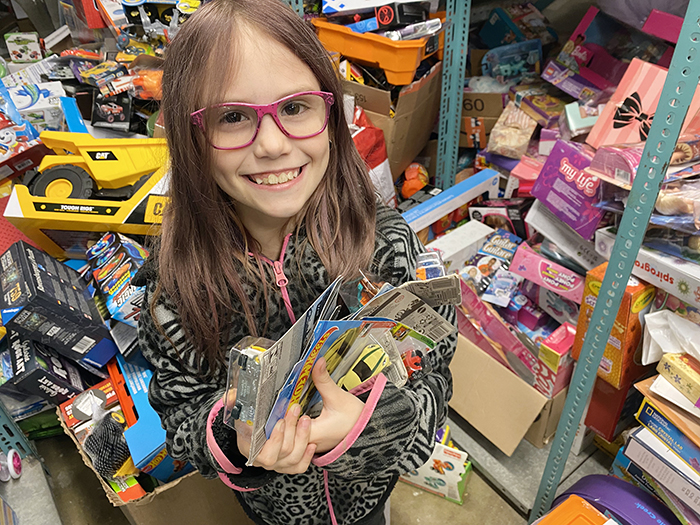 On a cool, cloudy November day, the people of Chatham-Kent delivered another Gift.
On Saturday, thousands of volunteers picked up donations of food and toys from front porches across the municipality.
It left organizers humbled once again.
Brent Wilken, one of those lead organizers, is amazed at the community support.
"Chatham-Kent's doing it. We're the come-together capital of Canada," he said. "We figured out how to find more people (in need)."
As for numbers, Wilken said it's too early to quantify the community support, other than to say it was "amazing."
He said it was different than last year, as the inaugural Gift was an emergency response.
"But this year, it grew in terms of diversity and inclusion," Wilken said.
Businesses, service groups, performance organizations, even gym members, came out to assist.
With the sorting, which is still underway and will be for some time, Wilken said each area has options in how to handle the items taken in. One option is to keep the food, toys and other items gathered and "try to get it to people in your area."
The other option was to send the items to a larger nearby centre for general sorting, and then tapping into that later to support your community.
"Many areas want to take care of their own first," Wilken said. "It's becoming more decentralized."
Food donations topped toys this year, Wilken said, and that is a good thing.
"We picked up more food this year compared to last year, which was heavy with toys. Chatham-Kent is struggling with food this year. It wasn't as prevalent last year," he said.
Wilken said because of the casual nature of The Gift, it was difficult to pin down the number of volunteers this year. He estimated between 2,000 and 4,000 people helped out.
"One area had just one registered volunteer, but we had 40 people show up to volunteer there," he said. "So many folks were tied to their area captains."
Wilken added more communities took part this year.
"A bunch of smaller communities took it on this year, such as Dealtown and Erie Shore Drive. People took it to their little hamlets," he said.
Wilken said he was impressed by the support of a number of people from one of the local homeless shelters. Three captains and about 15 volunteers came from one.
"They really became influential in this. They cleaned the depot and became part of the sorting," he said. "I don't think they care if they get one thing from this. They totally get it is about sharing and being thoughtful. It's an opportunity to share and to think about each other."
Wilken believes a combined effort by organizations earmarked to help others and grassroots efforts such as The Gift has the power to reach pretty much everyone in need. He believes some folks in need are either too proud to reach out to an agency for help, or for various other reasons choose not to.
"Agencies can't find everybody. Agencies and the community can find everybody," Wilken said. "Only the citizens have the power to find those needles in the haystack."
He added people can be referred to The Gift, or a concerned resident can contact The Gift and deliver items to the person in need.
Wilken sees this being an annual event.
"Because it's run by the community, now it feels many people are saying this is going to be around for a long time," he said.
As for if The May 16th Miracle will resurface next year, Wilken isn't sure.
"The Miracle was an emergency response. It will happen again when it's needed," he said. "We have no idea what is going on next May 16. We may need a miracle, we may not."