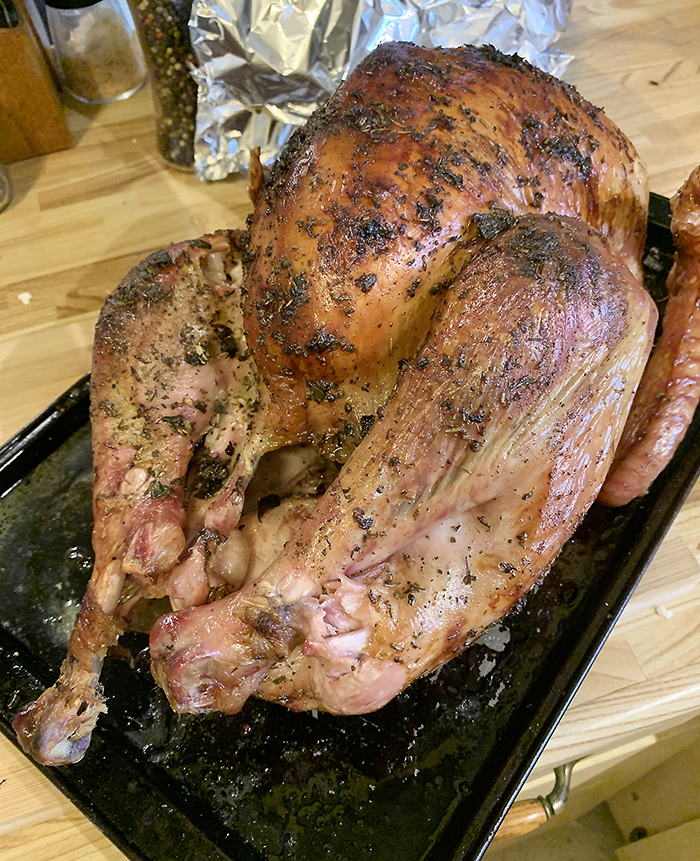 Over the Thanksgiving weekend, I did something I've never done before – plunked a 5.5-kilogram turkey on the Big Green Egg.
We went looking for a chicken to do beer butt style on the Egg for the weekend, but all we could find at the store were turkeys.
Mary Beth returned with the bird, and I still offered to do it on the Egg, since it can cook just like an oven and keeps everything so darned moist.
So, as she prepped the bird inside, I prepped the barbecue outside. After getting it up to about 320 F, I added the plate setter, which turns the barbecue into an indirect-heating oven, and waited for the temperature to settle a bit more.
On went the bird and open went the beverages.
Such a large, cold bird messed with the temperature of the Egg a bit, so I had to adjust a few times and went through more lump charcoal than I expected to use, but the end result was spectacular.
Mary Beth is the turkey expert; I've never cooked anything other than a turkey breast, so I relied on her knowledge. "Twenty minutes a pound," was her advice.
I didn't even put in a meat probe, trusting Mary's turkey knowledge.
After a little more than three hours, she checked the firmness of one leg, commented it would be another 30 minutes or so. I popped another beverage.
As advertised, the bird was ready at the pre-determined time. It had browned up beautifully. The drip pan, which we'd added water to on a couple of occasions, was the starting point for our gravy, and it had done a great job keeping the turkey moist.
Cauliflower, garlic smashed potatoes, stuffing (cheated on the stove top inside) and brown sugar squash completed the meal. It was delicious.
The turkey was very juicy and had a slight smoky flavour from the Egg, as did the squash.
I'd cook turkey that way again in a heartbeat.
Tasting at the Barn
Mary Beth and I have stopped in at Red Barn Brewing in the past to pick up local craft beer, but we finally had the opportunity recently to go in and sit down to sample some beer, enjoy a hot pretzel and take in the atmosphere of the tasting room.
It truly is gorgeous in side the barn. Denny, Sandy and Dan, and their family, have done a great job in there.
As for the beer, it was on point as well. We each ordered a "flight" of four samplers. Mary went for the selection of sours on tap, while I opted for more traditional offerings – a red, an IPA, a pilsner and a heavy ale.
All were quite tasty. So many different flavours all at once.
We opted for a hot pretzel while we were there and it was a perfect compliment for the beer.
Mary and I shared a third flight of beer – four new beer flavours to try.
Through all those beverages, I believe we had only tasted two of them before.
It sounds like we guzzled a great deal of craft beer, but that's the great thing about the flights – the four sampler glasses perhaps make up a pint of beer. So we really only had a pint and a half each over the course of a couple of hours.
I must thank Denny for stopping by the table to chat beer and plans for the brewery in the future. They've got a really good thing going just north of Blenheim and I encourage people to sample what they're making…responsibly of course.