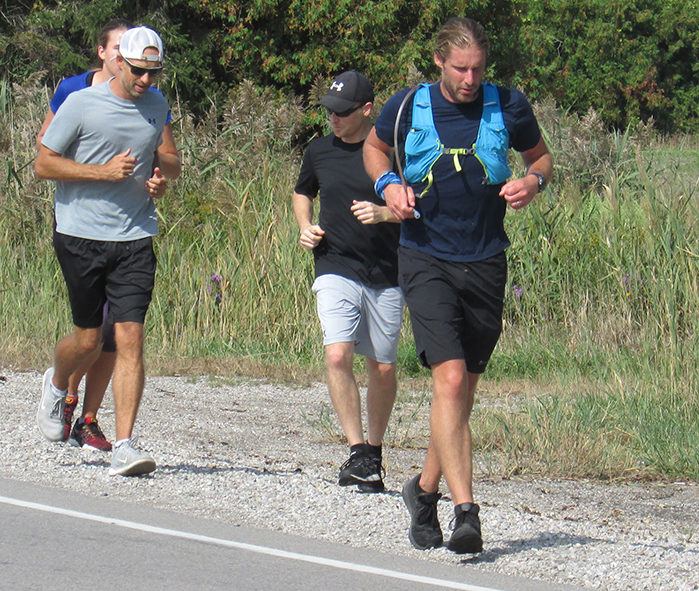 For anyone still thinking the actions of one person can't make a difference or even cause a ripple in the waters of life, we present to you … one person.
Kevin Owen.
He's a board member with the Children's Treatment Centre Foundation of Chatham-Kent who wanted to do more to help raise funds for the centre's programs.
With an idea that began back in January, the Shore to Shore ultra marathon took place on Oct. 7, raising a staggering $111,000.
It all began with one man.
Owen expressed his desire to help raise funds to Mike Genge, fundraiser extraordinaire, and president of the foundation for the centre.
By the time Owen's first footsteps hit the pavement at 3 a.m. in Mitchell's Bay on Oct. 17, they had topped the $100,000 mark.
Sixteen gruelling hours later, after jogging through Wallaceburg, Dresden, Kent Bridge, Chatham, Dredsen and finally Erieau, the final tally showed $111,000, more than $1,000 per kilometre.
Owen will do everything he can to deflect credit. But the fact remains, it was his idea and his 16 hours of running that made it possible.
Credit is deserved for Genge, who works tirelessly to help find supportive funding for the treatment centre. The treatment center helps one in every five children in the municipality and does not receive full funding for every program it runs. Every donated dollar helps.
Credit is also deserved for local business owners and residents who understand the need. Hence the $111,000 in donations.
Businesses received little if any direct advertising benefit for donating to the run; there were no signs erected at a public gathering, or programs printed with advertising for those businesses. Instead, it was all because they believe in the treatment centre and believe in Owen.
That is something most other communities can't say they have. Chatham-Kent is comprised of people who can recognize a need and react en masse to support it.
But ultimately, yes, one person can make a huge difference. It all starts with that first step.