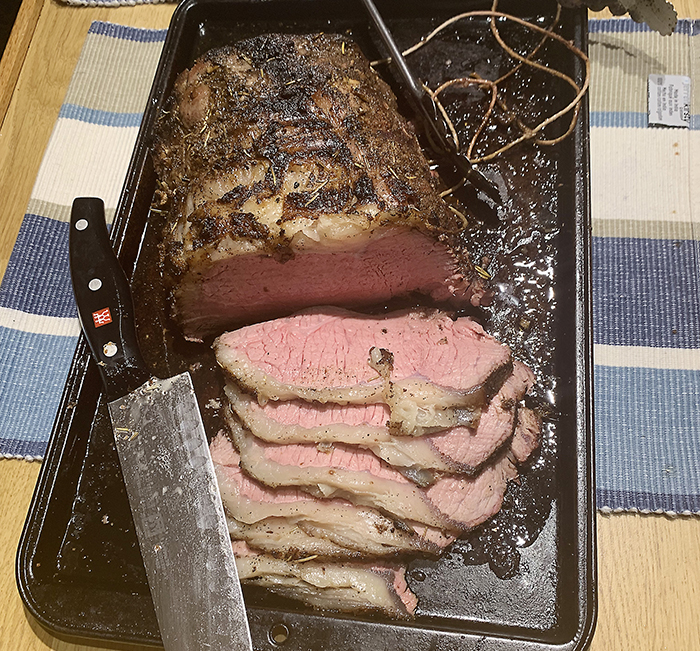 We recently held a thank-you dinner for the help relatives Jessie, Dale, Jaylyn and Jane have been giving us around the house with a few things, and it was a Big Green hit!
Yes, I fired up the Big Green Egg to cook the main course, and despite over-estimating the cooking time significantly, the meal was awesome.
But it started with a problem: I was not sure what to cook.
I went to one shop looking for perhaps brisket, but the smallest offering was nearly 12 pounds. We did not need that much meat.
Plus, I didn't really want to do an overnight cook for this, and each time I've cooked brisket for day-of events, I've pulled it a little earlier than I wanted. None of it was bad, but I have tasted better at the hands of others.
So, off to Schinkels' Gourmet Meats I went, again, without knowing what I should cook.
A chat with Cory changed all that. I explained I wanted to cook something the day of the dinner. We looked at several longer cooking options before he steered me towards a decision I will never regret. They had New York striploin steaks on sale. He suggested getting a striploin roast. Sold!
We seasoned it nicely and marinated it overnight (Mary Beth's the guru for this with red wine vinegar, olive oil, chopped garlic, rosemary, salt and fresh-cracked pepper.
The day of the dinner, we pulled it out of the fridge and added more flavour. I used Smokin' Stampede seasoning on the roast as the rub. This is a President's Choice product, chosen in no small part because Dale is from Calgary, home of the Stampede.
I rubbed all sides liberally with the seasoning, then heated the Egg up to 275 F and planned on cooking it for maybe three hours.
On it went, fat side up so the juices would flow around and through the meat as it cooked. I sat outside on a hot day, being sure to remain hydrated with local craft beverage options.
The roast, as mentioned, cooked faster than anticipated. I pulled it off at 130 F, not quite medium rare, but I wasn't done.
The wonderful thing about the Big Green Egg is its versatility. After more than two and a half hours as a roasting oven, I turned it back into a barbecue, let it heat up to 500 F, and put the roast back on to reverse sear. After a few minutes a side, it was done.
Served with potatoes, carrots and asparagus, it was a hit with everyone. I was worried what Dale would think of it, but after going back for seconds and thirds, I think he liked it!
This roast was as good as, if not better, than any prime rib we've done on the Egg. Less fat too. I would certainly do it again.
On the road
Reader Donna-Jane Pollock recently penned a letter about the irate and impatient drivers around Chatham. She's not wrong.
Pollock, who likes to walk to work, said drivers often don't give pedestrians the right of way, or complain that they aren't basically running across the street.
And she mentioned how crazy it is trying to cross the street at the oddball intersection of Victoria Avenue, Thames Street, and Dover Street in Chatham.
It's chaos.
I thought with the Third Street Bridge closed due to construction, people would see how rights of way work at this corner. But impatient drivers at the end of Victoria think they have the right of way when there is no southbound traffic on Thames Street.
The only problem is many people heading north on Thames off the Fifth Street Bridge are turning onto Dover, not Victoria, which means they are cutting across the southbound lane. Since Thames is a through street, they get right of way. Except some folks coming off Victoria don't seem to understand it.
I've lost track of how many times I have had to abort my turn as a chucklehead behind the wheel decided to pull out from Victoria Avenue right in front of me.
A police cruiser parked in the Community Futures/Economic Development parking lot, or at Dave's Fix It Shop would have a field day handing out tickets. The cop would quickly get writer's cramp.