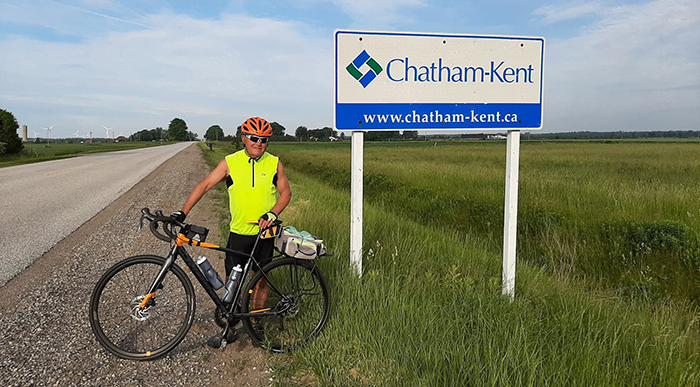 When life gives you a pandemic, you make the most of it.
At least that's what Randy Perdu did this summer.
The retired Bell Canada employee normally vacations out of province, and often takes his bicycle with him.
But this year, with COVID travelling restrictions still a concern, the CK Cycles member opted to push his pedals here in Chatham-Kent.
"I figured this would be cool. I read 'Romantic Kent' this winter. It got my juices going."
The book, a history of Kent County from 1626 to 1952, was written by the late Victor Lauriston.
Perdu said the book prompted him to bike along Chatham-Kent's outskirts and to enjoy the beauty that is all around us.
His partner, Janice Lally, was a big part of his project. They used a detailed municipal map to plot out his route, and she also got him to and from his ride points each day.
Perdu, an avid cyclist, used his gravel bike, a heavier bike that can withstand the rigors of riding on gravel, and still deliver a smooth ride on asphalt. He's glad he chose that ride.
"Believe me, a good portion of Chatham-Kent roads are gravel, at least around the perimeter," he said.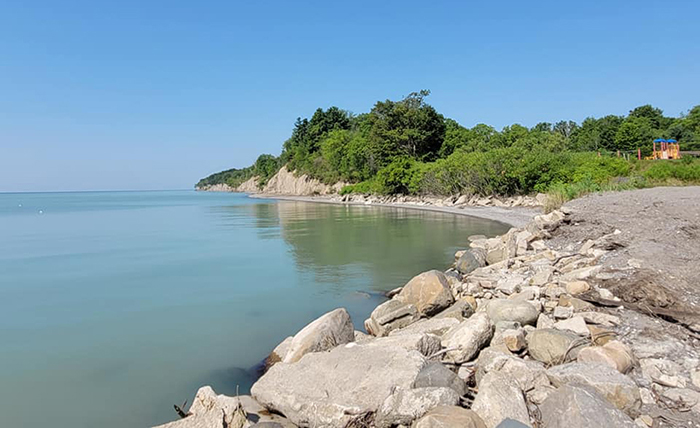 Perdu took his time. Over the course of about a month, he made six days of riding. He and Lally would leave early in the morning, Perdu would be dropped off, and when he was about 45 minutes from his planned destination, he'd let Lally know. She'd come, pick him up, and they'd have lunch nearby.
For Perdu, no stranger to the less-travelled roads of C-K during his years working as a service tech for Bell, the riding provided a very different perspective.
"It was nostalgic being on the back roads. It was very cool being on a bike, seeing what you saw out of a van," he said.
This year's counterclockwise trip began in the southeast corner of the municipality and Perdu pedalled north on McPherson Road. He rode through Clachan and around the outskirts of Bothwell.
"It's kind of cool back there. There are some surprising industries out there, and oil wells that are still around," he said.
Comptank, a company that manufactures composite tanks for tractor-trailers, was one industry that surprised him.
He also passed tree farms and farm after farm.
"The smells. You can smell the smells riding on a bicycle," Perdu said.
That includes the sweet smell of spruce trees on a tree farm to the not-so-sweet smells of a hog farm.
Day 2 took him across the top of the municipality and on a side trip onto Walpole Island.
From there, it was down the west side of the municipality, into Tilbury and beyond.
The petroleum industry cropped up as Perdu returned to Lake Erie in Wheatley too.
"Along the lake, you don't realize how many oil and gas wells there are," he said.
But that's not the only industry that caught his eye out in West Kent.
"The boat building in Wheatley," he said of Hike Metal. "I did not believe they build boats like they do. They're building a vessel for whale watching on Hudson Bay. It blew me away. Built here in Chatham-Kent. What skills we have here."
He said he walked around the side of the building and spotted a Coast Guard vessel the company had recently built as well.
Perdu said cycling through Wheatley was a treat, as he described it as a "beautiful community."
As he went into the final legs of his journey, Perdu encountered the reality of the erosion along the Lake Erie shoreline. He saw the bluffs sliding into the lake near Port Alma, and had to carry his bike over the concrete barriers preventing any vehicular traffic from using that stretch of Talbot Trail.
He saw the shoreline issues firsthand as he pedalled along Erie Shore Drive, and again along Rose Beach Line.
Throughout the ride, Perdu was amazed at the amount of history on display.
"It really is very interesting, not just Talbot Trail or Tecumseh Trail," Perdu said.
He took six days over the course of more than a month to complete his trip. He'd plan it around weather, including the wind.
"My first leg, I rode directly into the wind. It was a tough go. I learned from that," he said. "I kept a free and easy schedule. I'd watch for the wind and I'd pick my days to go on."
This is also not the first time Perdu made a perimeter pedal effort around the municipality. He said he did it about a dozen years ago with friend Gerry Murphy, but it wasn't the same, in several ways.
"We were on road bikes, so we had to stick to paved roads. And I wasn't familiar with long-distance riding. About half-way to Dresden, my legs cramped up and I couldn't pedal," he said.
Will he do it again? Time will tell.