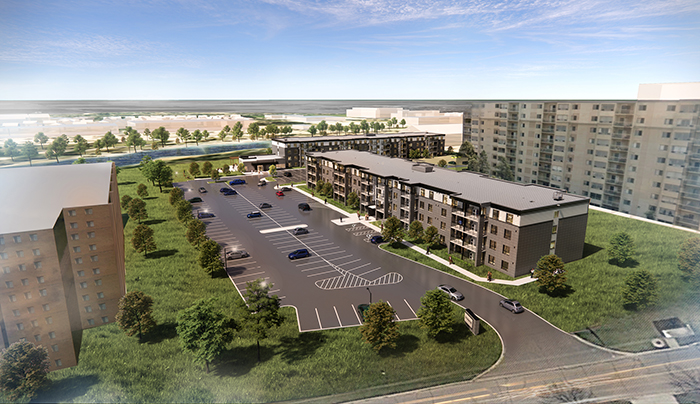 138-suite rental development underway
Development has begun on a new 138-suite rental apartment building at 53 & 57 Riverview Dr. in Chatham.
SkyDev, the property's developer, made the announcement recently.
The new development, called Rivers Edge, is owned by Skyline Apartment REIT.
Once the development is complete, the complex will be managed by Skyline Living, which currently manages 789 suites across 10 properties in Chatham, including 89 Riverview Dr. on the same street as the new development site.
SkyDev, Skyline Apartment REIT, and Skyline Living all operate under Skyline Group Of Companies, based in Guelph.
"Our friends from Chatham-Kent, RHC Contracting, and Skyline have come together to celebrate a milestone of breaking ground, and to share in the pride of launching Rivers Edge," said Greg Jones, President, SkyDev, in a media release. "I would like to say thank you to the mayor and council for being champions of rental housing investment."
The Rivers Edge development will comprise a four-storey complex with luxury suites and on-site amenities, including an indoor/outdoor lounge and terrace and an on-site gym and yoga studio.
The site is located on the banks of the Thames River.
"We're excited here in Chatham-Kent about the Rivers Edge development," said Mayor Darrin Canniff. "What it means to the community is huge. We're creating a lot of new residential spaces that we need."
"It seems like yesterday that it was Fall 2019 when I drove to Guelph to meet with [the Skyline] team to discuss the opportunities available here in Chatham-Kent," added Stuart McFadden, director of economic development for the municipality. "It was an absolute pleasure to work with them."
The development will also have several environmental features, including on-site EV chargers and a community garden.
The development is slated for occupancy in Fall 2022. Those interested in renting at Rivers Edge can visit RiversEdgeApartments.ca for more information.