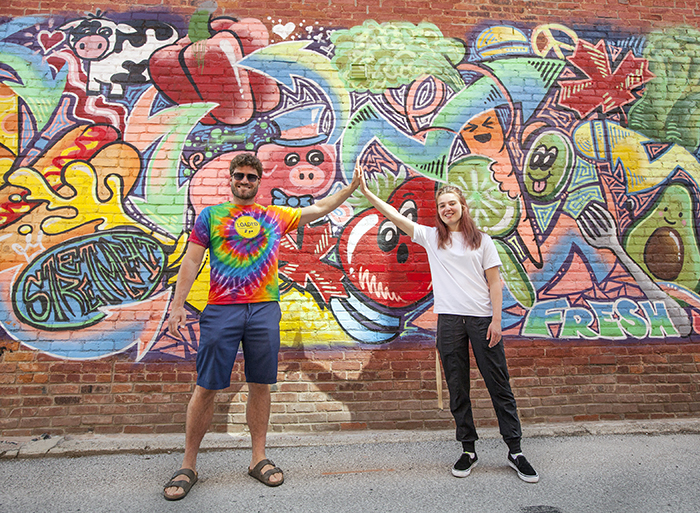 Local woman makes a name for herself though her graffiti art
Less than two years ago, Chatham's Ella Matesic had never tried graffiti art. These days, her work is in several high profile places and she has one of Chatham-Kent's most prominent citizens in her corner.
Matesic, 19, a graduate of Ursuline College Chatham, first took up spray paint as a medium when she opted to give it a try during the RM40 celebrations in 2019.
In fact, Matesic was the only local artist entered in the contest, which took place on the property of RM Classic Cars between Chatham and Blenheim.
"There were six people in it," Matesic recalled of the contest, held when she was 17. "I didn't win anything. But it was super fun. I'm always looking for new mediums."
She may not have won, but the man behind RM – Rob Myers, noticed her work. The two connected, in large part thanks to COVID-19.
"His regular graffiti person was from the (United) States. He couldn't come across due to COVID," Matesic said. "I got called do to some graffiti work for him. It turned out great for me."
Myers said he was impressed with Matesic from the get go.
"Her eye for art and design is very creative and she shows a lot of confidence in what she works on with a very talented eye," he said. "Our family met her at RM's 40th anniversary since she was one of the contestants that did graffiti painting on a container as a competitor. Since then, we have hired her to do more artwork for us and most recently she has been working with my wife Cathy on a very intricate piece of stone mosaic that will be an amazing piece once completed."
Matesic said the collaboration effort with Cathy Myers, which will be revealed at a later date is a mosaic floor roughly 200 square feet in size.
"Cathy is lovely. I had an awesome time working with her. The two of us have collaborated really well. She's a talented artist," she said. "I had never worked on a large-scale project with someone else."
As for Rob Myers, Matesic said he seems to trust her to deliver.
"He more or less said, 'Paint this wall.' There was a lot of freedom."
Grabbing those cans of spray paint in the summer of 2019 has certainly created opportunities for Matesic, who is heading into her second year studying architecture at Carleton University in Ottawa.
After showcasing her talents at RM40, Matesic was commissioned by Gail Hundt of the Chatham-Kent Chamber of Commerce to spice up the chamber's boardroom.
"I did a mural inside the board room there. Gail was super fun. She has lots of energy. She wanted something fun inside the office," Matesic recalled.
The spray painting didn't stop there. She has also painted a food truck, and did work inside and out for Loaded 2 Go in downtown Chatham.
Owner Pete Tsirimbis praised Matesic's work.
"Ella has been an absolute pleasure to work with," he said. "Her art has exceeded our expectations every time. She is an inspiring and talented young local artist with a very bright future."
Matesic said she enjoyed working with Tsirimbis.
"He basically said to go crazy. He gave me some slogans and wanted me to showcase some of the food they served," she said of the huge wall of graffiti on the side of the building.
After a little back and forth with general design options, she was ready to start spraying. But there was one problem.
"I only designed about half of it, and the other half I wound up just winging it. I didn't account for just how large it was. But it worked out very well," she said.
That project also led to a bit of trepidation for the artist.
"The scariest part was how high I had to be on a ladder. That mural is well over 10-feet high. When you are near the top, it can be a bit stressful," she said.
All this from a hobby.
Matesic said her interest in art began at a young age.
"My mom always put me in art camps. I really liked to draw and I did that on my own all the time," she said. "I find art both calming and stimulating. With every project I take on, there is a different set of boundaries, from what the person is asking you to do to what you want to do."
She said she enjoys the back and forth planning.
"It's exciting. It's a collaboration. It ends up being something way different than what I initially was intending," she said.
Still, she is focused on "a lot of 90-degree angles" come the fall when she returns to school.
"Art will always be a hobby. If I can do that through my whole life, I'd love to," she said.
Matesic said the work keeps coming, as she has another project slated for later in the summer.