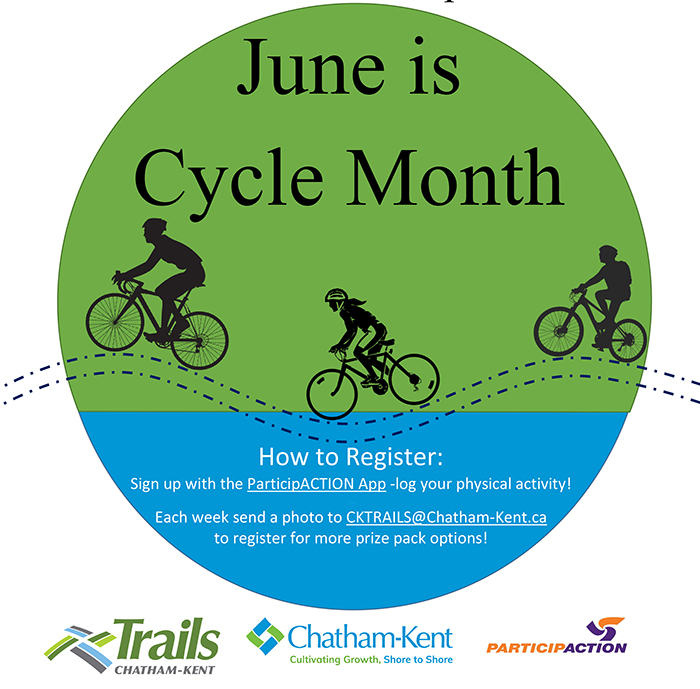 Download an app and get pedalling; it just might win you a new bicycle.
June is Bike Month, and two municipal departments, with the support of Ontario Parks and the Lower Thames Valley Conservation Authority, are again holding a Bike Month Contest.
The contest takes place from now until June 30. Just download the ParticipACTION app to get started.
The contest encourages residents to rediscover the benefits of cycling, including improving physical health, reducing emissions and air pollution, which improves the air we breathe.
At the end of this event, municipal officials will be tracking all collective activity in support of Canada's ParticipACTION Community Better Challenge. Every minute counted tracks towards the Municipality of Chatham-Kent's score and increases the chance of C-K being named Canada's Most Active Community.
Community members can participate in the Community Better Challenge as an individual or small group for a chance to win weekly prizes through ParticipACTION. For more ParticipACTION options, join them for their RetroACTIVE fit break every Tuesday, Wednesday and Thursday at noon on Facebook Live.
To enter, download the ParticipACTION app; submit any physical activity you engage in throughout the week; submit a photo each week to CKTrails@chatham-kent.ca of yourself, family or friends cycling on trails and pathways within Chatham-Kent to be entered into a random draw for prize packs each week and be sure to include names, the community and trail or street name.
Each week two photos will be randomly drawn and featured on the Chatham-Kent Trails Social Media pages.
Those featured will win prize packs from Chatham-Kent Trails, Public Health, Ontario Parks and Lower Thames Valley Conservation Authority.
The prize packs contain a CK Trails branded back pack; a bike repair kit, bike pump, lights, bell, CK Public Health branded water bottle, LTVCA parking pass.
Four prize packs will also include an Ontario Parks 2021/2022 Park Pass.
The Chatham-Kent Trail Booklet, the Chatham-Kent Safe Cycling Handbook and the Chatham-Kent Cycling Map can all be found at any open Municipal Service Centre, Libraries for curbside pick-up, Rondeau Provincial Park and Smith Cycle.