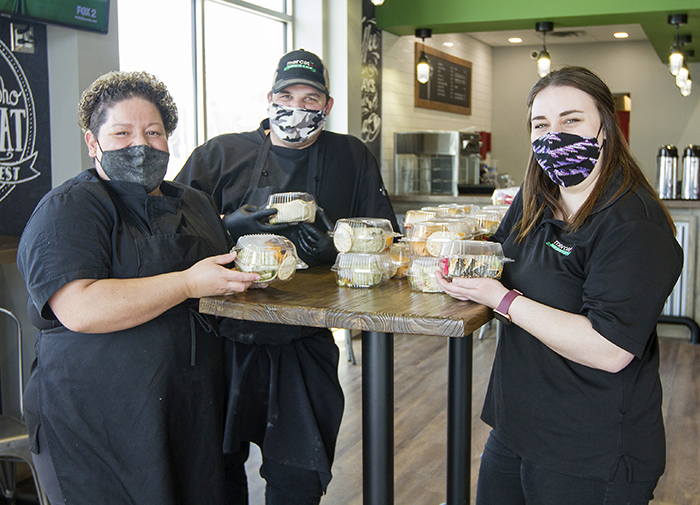 First responders – including EMS, fire and police services – received an unexpected show of gratitude from Chatham's Mercato Fresh on Tuesday last week.
Approximately 200 free of charge, prepared lunches, including a variety of sandwiches, sushi and beverages, were ready to be distributed to any first responders who walked through the grocery store's doors.
Within a half hour of the lunch starting, a quarter of the meals were already spoken for.
"If we run out, we'll make more. We won't let anyone leave empty-handed," said co-owner Jonathan Reaume, who runs the grocery story alongside co-owner Marc Romualdi.
"I saw some things on the news the other day and I got kind of choked up, and I said, 'We've got to do something, just put something out and here's what I'm thinking we can do.'"
After talking to his head chef Maria Tape, Reaume said she along with other members of their team deserve the credit for making the lunch a reality.
"I'm the architect, she's the builder. She put this all together and it was on short notice."
Having family members in the health-care field, the look of exhaustion on the faces of those in uniform is something Reaume and his team see at their store on a daily basis.
"These people are genuinely burnt out. We see it," said Reaume.
With the sole aim of the lunch being to give back and say thank you to those working the front line, Reaume said any attention the store would receive as a result was the farthest from their purpose for doing the event.
"It may not be big on the grand scheme of things, but if it changes somebody's day for the better, even if it gives them some kind of boost for the day, then I'm fine with that."
When the doors to their store first opened in February of 2020 and the onset of the pandemic began, the decision was quickly made to never charge first responders for their coffee.
"We started with that thought in mind that these people are special," said Reaume.
"Even if they come in, grab a coffee and don't buy anything else, I don't care, but we have to show that we appreciate what they are doing."
Comments
comments