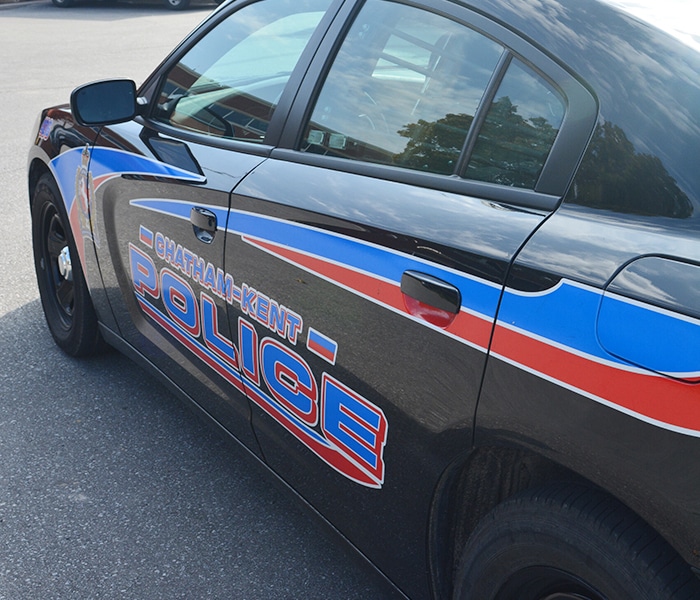 Cop punched in Wallaceburg
A Wallaceburg man has a lot to answer for after Chatham-Kent police say one of their officers got punched during an arrest Wednesday afternoon.
Police say the officer responded to the report of a suspicious man in a parking lot on Wallace Street in Wallaceburg yesterday afternoon.
The officer spotted the man who falsely identified himself, while sitting in a vehicle. Through investigation, the officer confirmed the man's true identity and learned that he was in a vehicle that was not his.
As the officer placed the man under arrest, he refused to exit the vehicle and resisted arrest. The man punched the officer and grabbed the officer's conducted energy weapon, in an attempt to disarm him, police say. Following a struggle, the man was taken into custody.
The officer further learned that just prior to police arrival, the man stole keys from a woman in an attempt to steal her vehicle. The woman fought with the man and when she got her keys back, she drove away.
A 37-year-old Wallaceburg man has been charged with obstruct police, resist arrest, assault police, disarming a police officer and robbery. He has been held in custody pending a bail hearing.
Theft, weapon charges
Last night just before 6 p.m. police responded to a shoplifting complaint at Wal-Mart in Wallaceburg.
Through investigation, police learned that an unknown man stole a bicycle, black backpack and electric shaver.
Total value of the theft was estimated at $370.
A physical description of the man was provided to police.
Around 8 p.m. police located the man on James Street, in possession of the stolen bicycle, backpack and shaver. The man was taken into custody and upon being searched incident to arrest was found to be in possession of a prohibited knife.
A 32-year-old man of no fixed address was charged with being in possession of property obtained by a crime and being in possession of a prohibited weapon contrary to a Prohibition Order.
The recovered stolen property was returned to Wal-Mart.
Not so neighbourly
Last night, police responded to a neighbour dispute in Merlin.
Through investigation, police learned that a verbal argument resulted in the man threatening his neighbours.
A 28-year-old Merlin man was arrested and charged with two counts of uttering threats.
Mischief
Last night, police responded to a domestic disturbance at a residence in Chatham.
Through investigation, police learned that the man damaged a door while at his ex-wife's home. Upon leaving, the man damaged her security camera and stole the camera.
Officers located the man at his home and he was taken into custody. At that time, the man turned over the stolen camera to police.
A 24-year-old Chatham man has been charged with theft, possession of stolen property and two counts of mischief.