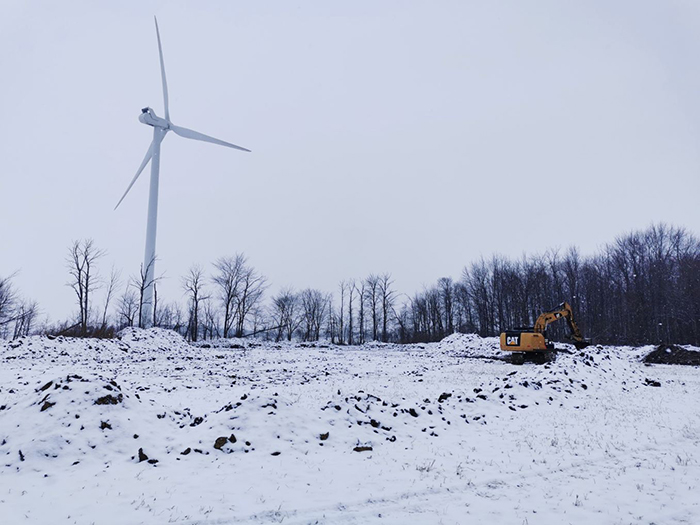 By Bruce Corcoran
Sixteen acres of land near Cedar Springs is in the process of being returned to natural habitat.
The Lower Thames Valley Conservation Authority has broken ground on changing the parcel of land at Orchard Farm into 14 acres of forest and two acres of wetland.
The project is backed by Glenn Seed Ltd., in partnership with Ridge Landfill Community Trust, Forests Ontario and Engie.
Randall Van Wagner, manager of conservation lands and services, said each reforestation and/or wetlands project is important ecologically, but this one provides a corridor of sorts.
"Southwestern Ontario is very fragmented. Our natural areas are essentially islands, as they are surrounded by developed land," he said. "There is little connectivity from one to another. This project addresses that issue by converting agricultural land back into a natural feature and adds to already existing, adjacent natural area."
The species that benefit from such a corridor are diverse, Van Wagner added, as this part of the country is one of the most biologically diverse in Canada.
But there are also human benefits to the reforestation and wetlands effort.
"From a human perspective, these projects provide water quality improvements, the trees will provide oxygen and carbon sequestration," he said. "It should be noted that it is scientifically proven that our natural areas provide stress relief, recreational opportunities and many other health benefits."
Van Wagner said the LTVCA anticipates the work on the land will take months to complete.
Van Wagner said the wetland area is being excavated right now. The design is based on input from the landowner and the contractor.
Reforestation will take place in the spring.
"We choose the species based on soil type and moisture content, and accordingly recommend multiple species that are best suited to that particular site," Van Wagner said. "Trees that are found here in the Carolinian Life Zone like American Sycamore, Bur and Pin Oak, Kentucky Coffee Tree, Bitternut Hickory, shrubs as well Elderberry and Nannyberry to name a few."
He added that with the help of a machine planter, the LTVCA can plant around 5,000 trees a day.
But excavating and planting are just the first stages of the project. Mother Nature does most of the rest of the work.
Van Wagner said wetland development can be very quick, with water filling in mere days after excavation. Waterfowl and shore birds will find the area in a matter of days or weeks after that.
Aquatic vegetation will spring to life over the course of the summer, but by the spring of 2022, the two acres of wetland will have completed its transformation.
The trees, however, will take longer. Tree seedlings are typically between two and three feet in height when planted. Van Wagner said the first year the trees essentially adjust to being transplanted, and they gain root depth. After that, the trees will begin to grow upward.
Chatham-Kent Mayor Darrin Canniff welcomed the news of this latest environmental initiative.
"Projects such as this are vital for the environmental future of our community. The fact that so many groups and individuals are involved shows that there is a recognition in Chatham-Kent that we have a responsibility to act as stewards of the land, air and water and preserve and protect it for the generations to come," he said in a media release.
Van Wagner said the partnership that came together to make this project happen provided nearly $50,000 in "green infrastructure" to improve the health of the watershed.