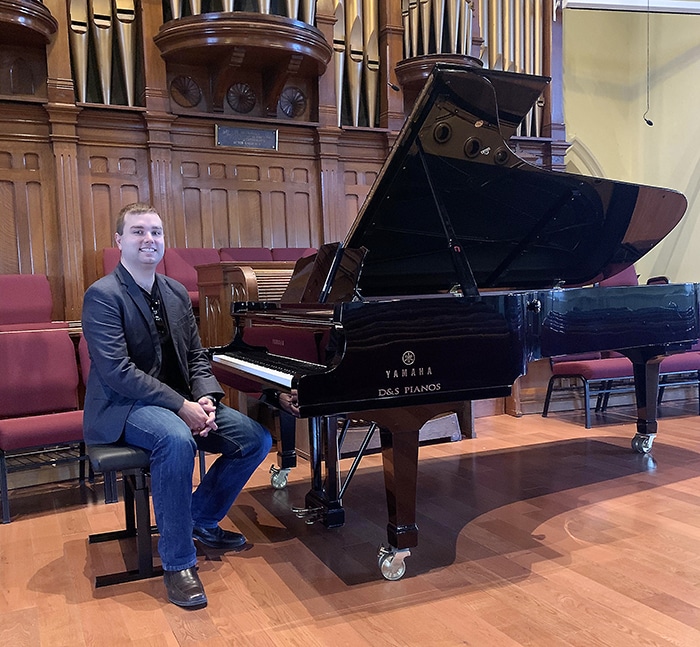 By Bruce Corcoran
Following a successful fundraising campaign, St. Andrew's Church in Chatham received an infusion of musical youth recently.
Devon Hansen, the musical director at St. Andrew's, said they took possession of a nine-foot Yamaha concert grand piano last week. It replaces a smaller, older model.
"The piano we had was creeping up on 40 years old. It was a seven-foot conservatory series. It was perfect for churches, but was kind of getting to the end of its life," he said. "We lucked out to get a concert grand for a steal."
Calling the new piano "the Cadillac series for Yamaha," Hansen said the piano is hand made.
"It's got a much richer sound. Dynamics wise, it fills this place beautifully," he said of the new piano inside the church.
Having the improved piano benefits more than just the church congregation, Hansen said. It could actually attract different, more discerning, performers to its concert series.
"This is what certain people go after to play. This opens up possibilities to bring in artists who wouldn't play on a shorter piano. Those artists have such specifics on what they need," he said. "The Windsor Symphony has in the past brought in their own piano."
The piano has already been on display for the congregation. Hansen said the church streams its Sunday morning services, and it was to be used this past weekend.
As well, Hansen said it will be part of the church's Friday afternoon Christmas concerts next month, and again at the church's annual Christmas concerts.
But its use will extend beyond St. Andrew's personnel, or performers coming from out of town.
"This isn't just for the church. This is for Chatham. A number of groups use this church for performances," Hansen said. "We want to encourage more of that. We want to be known for the arts."