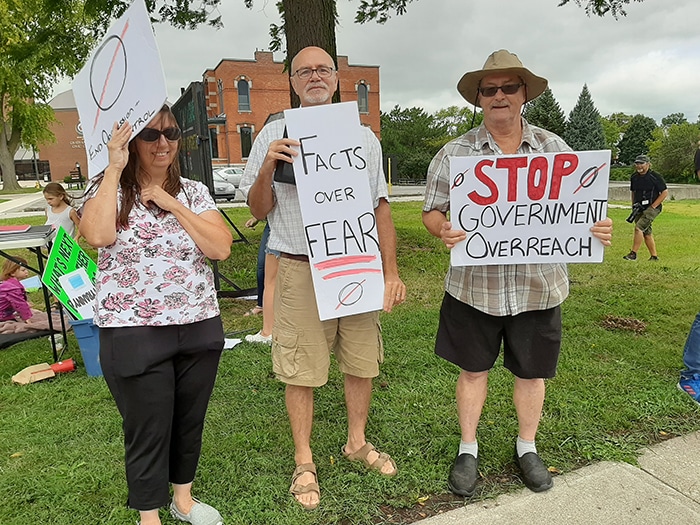 By Jenna Cocullo, Local Journalism Initiative
A "CK Freedom" march has Chatham-Kent's mayor concerned that COVID-19 will spread in the community.
The purpose of the march, planned for Saturday, is to protest the COVID-19 restrictions.
The rally is part of province-wide anti-lockdown protests that have been taking place throughout the month.
Reports coming from other jurisdictions suggest that residents from Ontario's virus hotspots have been travelling between communities to help with the individual protests.
"The concern I have with a rally like that happening anywhere, is that it brings people from all communities; it's not all local people doing this," said Mayor Darrin Canniff at a press teleconference. "In Aylmer, I understand there were a lot of people coming from Toronto right through to Windsor. And as we know, there's some real hotspots in certain areas of Toronto. So we would have all these people coming to our community and that just raises that potential."
Chatham-Kent's chief medical officer of health said it was too early to tell if the rally in Alymer, which according to media reports drew around 2,000 individuals, caused a surge in cases but was hopeful that the outdoors would stop the spread.
Colby said he was hoping a freedom march wouldn't come to Chatham Kent, because the positive COVID-19 numbers are rising in Ontario.
"And we are starting to think about more stringent control procedures," he said. "I have a lot of trouble understanding the denialism of people in the wake of rising numbers, and some jurisdictions that have overcrowded hospitals and strained capacity. I mean, really, wearing personal protective equipment, physical distancing, hand hygiene and not associating groups at this time is all that is necessary to bring the transmission down."
Weekly rallies protesting the mandatory mask bylaw have been held in Chatham since June, but the numbers of attendees have been diminishing, according to Chatham-Kent's chief administrative officer Don Shropshire.
"People are now more or less into the routine and they're recognizing it's not such a big deal, in terms of an inconvenience for people, and they recognize that there's some benefits," he said adding that he's been out to speak to the public.
"I think people generally have gotten better and they've actually appreciated that we're doing what we can to take control of our own future and reduce the chance of transmission."
The CK Freedom group did not respond to a request for comment but a social media post suggested that organizers in the southwest Ontario area – London, Windsor, Chatham, Sarnia – were planning to travel between rallies.