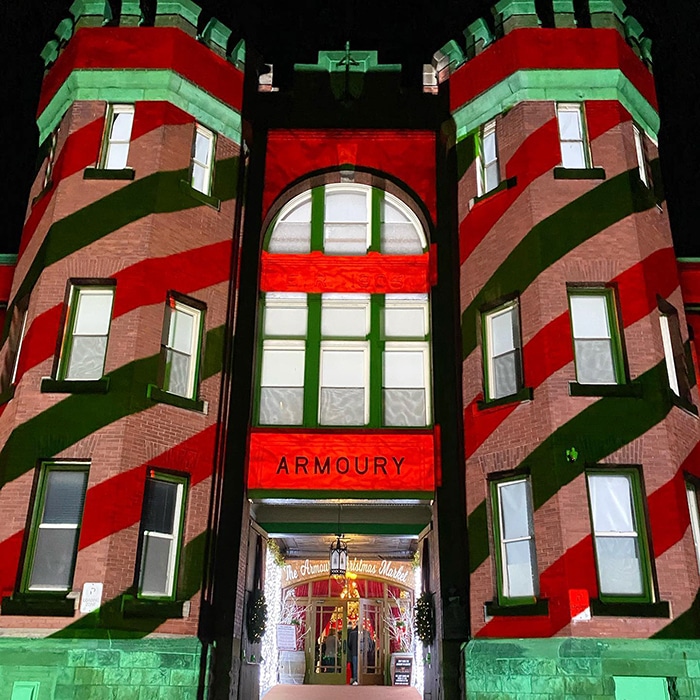 By Bruce Corcoran
COVID-19 can't suppress the holiday spirit.
That's the mindset of Lisa Lester of Four-Diamond Events, as Christmas fun at the Chatham Armoury will return this year, despite the virus.
But because of COVID-19, this year's event will look much different than the Armoury Christmas Market that took place last year.
Lester said, first off, there will be no market. No vendors will be on site.
Second, everyone will be in their vehicles to maintain social distancing and family bubbles.
"We're doing the Armoury up in lights again, but now it's going to be a drive-in experience," Lester explained.
Third, it will be free.
There will be room for 68 vehicles in the parking area to see the show, and three shows a night will take place, she said, at 5:30 p.m., 7:30 p.m. and at 9:30 p.m.
"Everything will be fenced off and regulated. Between the Armoury parking lot, the sidewalk and the park, we can situate 68 cars," Lester said. "We'll line everyone up near the Cultural Centre and we'll bring them in."
Set up will begin Dec. 11, and between Dec. 14 and 20, it will be show time.
"The show will be projection mapping again. It's really impressive," Lester said. "We'll be incorporating a live portion into every show as well."
That will involve Santa and his elves. Lester, a longtime local dance instructor, said she will be choreographing the elves for the event.
Lester hopes to involve downtown merchants in the festivities as well.
"We can't have the indoor things this year. I would love to get the downtown involved. If they could set up vendors outside and make it Christmassy and get as many of the businesses involved as possible in the downtown, it would be awesome," she said, adding she hopes to have upwards of 8,000 people come into the downtown over the course of the week.
"People will be able to come downtown. They can watch the show and enjoy stuff downtown," Lester said.
Lester said volunteers are also being sought to help put on the event. To volunteer, visit www.armouryfourdiamondevents.com.
Lester said a great deal of work still needs to be done, but she relishes the challenge.
"I'm looking forward to it as a way for Chatham-Kent to come together. We've figured out a way to do it COVID style," she said.
She said there is a giving component to this year's event as well, with the focus on support for C-K's homeless.
"Last year, we took donations at the door and we were able to donate $10,000," she said. "This year with COVID, we won't really be able to take donations in person. So when you register online, there will be an opportunity to donate $5 towards helping the homeless."