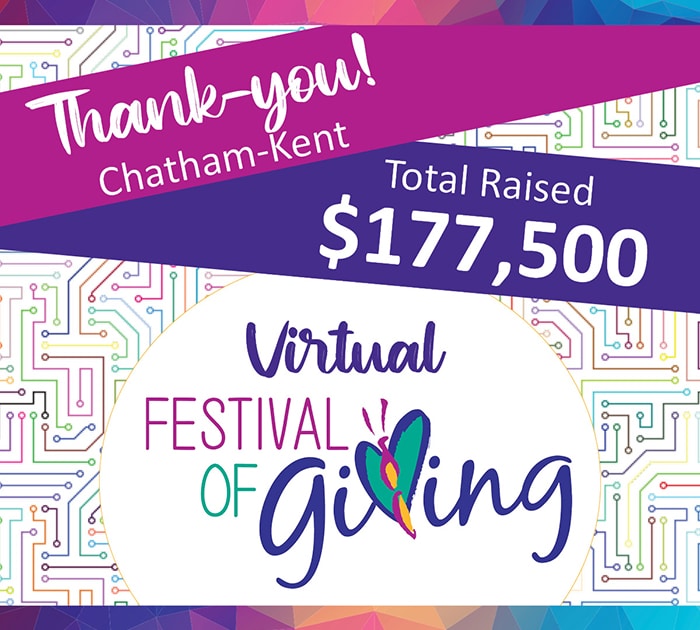 By Bruce Corcoran
Featuring cameo appearances from the likes of Gary Busey, Tommy Chong, Tom Arnold and Carole Baskin, this year's Festival of Giving (FoG) entertained and raised funds from a distance on Saturday night.
Mike Genge, executive director of the Foundation of the Children's Treatment Centre of Chatham-Kent, said despite all the changes and a six-month delay due to the COVID-19 pandemic, the effort raised $177,500.
"I was surprised it got that high. With everything going on with COVID, we were wondering how people would respond," he said. "But I think because of COVID, people are used to doing online shopping."
For FoG, that meant people using the Internet to take part in an online auction. At previous FoG events, such an auction was silent, taking place at the Bradley Centre, with upwards of 1,000 people wandering through to check out all the items, as they gathered for a night of food, music, beverages and fundraising.
This time around, it all took place from a distance. And Genge said he was amazed at the results.
"The last hour (of the online auction), we made an additional $10,000. It's really impressive. People were just going crazy," he said. "We had some items that flipped by $500-$700, in a matter of minutes."
Genge said the live auction portion of the event was a challenge, but staff and volunteers rose to it. Bidders registered in advance and indicated for which items they had an interest. Staff and volunteers then contacted the bidders by phone for up-to-date bidding as an item was auctioned off.
"In some cases, we had 20 people who wanted a phone call to get a bid on an item," Genge said. "The home renovation package had 16 bidders! To have 16 people bidding on one item at FoG (in person), that doesn't happen. It was great."
As for the event itself, which in the past saw the 800-plus people dine, dance and party before, during and after the auctions at the Bradley Centre, this year's version brought a few different wrinkles.
Local band Face 4 Radio played again, but this time around, they performed and recorded 10 songs the previous Saturday at The Fortress on Grand Avenue.
Their songs were placed into the show with live elements from hosts Chris McLeod and Tim Regan, the live auction run by Greg Hetherington, and video cameos thanking large corporate sponsors from Hollywood actors and sports celebrities
"I think people were blown away by the show," Genge said of the event, which was available on Facebook Live, YourTV and through the treatment centre's website. "We did those cameos and we had cut ins from the band and then we had the auction and we had the MCs. We even gave away pizza and wings."
Mike Grail, chair of the foundation board for the treatment centre, thanked the public for the support.
"The need didn't go away. There are kids in Chatham-Kent that absolutely need these services," he said. "The foundation needed to find a conduit to make this happen and to get the funding that's necessary. Loud and clear, the residents of Chatham-Kent were generous as always."
Grail said all funds raised at FoG remain local, and are earmarked for the various services the treatment centre provides to an estimated one-in-five Chatham-Kent children "with unique needs."
"To be able to have an evening like what Mike and the team were able to execute – sitting at home – it was really something," he said. "We were in our bubble in Mitchell's Bay and thought afterwards, 'Wow, they nailed that. They were really able to find a way to get people to contribute.'"
Grail added he believed the community had a form of "pent-up" donation demand.
"People had been waiting for some opportunity to give back. Chatham-Kent is very giving," he said.
In 2019, the Festival of Giving raised $232,000.