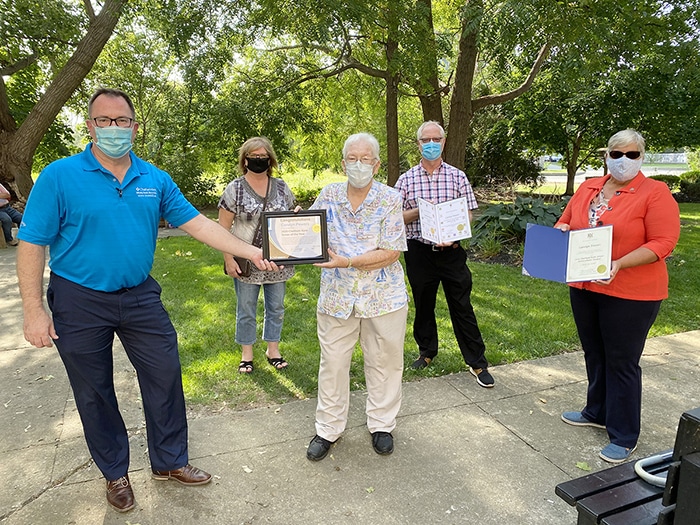 Chatham's Carolyn Powers was given her award as Chatham-Kent Senior of the Year recently during a brief presentation by Mayor Darrin Canniff and Coun. Clare Latimer.
The award is traditionally presented during the Senior Expo held at the Blenheim Arena in June but that ceremony was cancelled due to COVID-19 concerns.
"We didn't want to miss an opportunity to say thank you to Carolyn and provide recognition for her and all of the seniors who do so much for our community," Canniff said in a media release.
Powers has been a community volunteer her entire life and continues to contribute to the community by devoting her time to a number of causes. From her nearly 60 years in Scouting, to service club work, to drug and alcohol education to welcoming newcomers, she has been there for her community.
Powers is one of 13 adults age 55+ honoured this year for achieving significant goals and making outstanding contributions as volunteers within Chatham-Kent.
More than 1,000 citizens have been honoured since the awards began in Blenheim 33 years ago.
Chatham-Kent Coun. Mary Clare Latimer, Senior Expo Committee chairperson, said all the honourees share an important trait.
"The many seniors who volunteer in Chatham-Kent, and in particular those we are honouring, view their status as a senior as an asset," she said. "They know the value of experience and they know they have a lot to give. They look at what they do as an ongoing gift to their fellow citizens. Their attitude is amazing and it's a real joy to watch what they can accomplish."