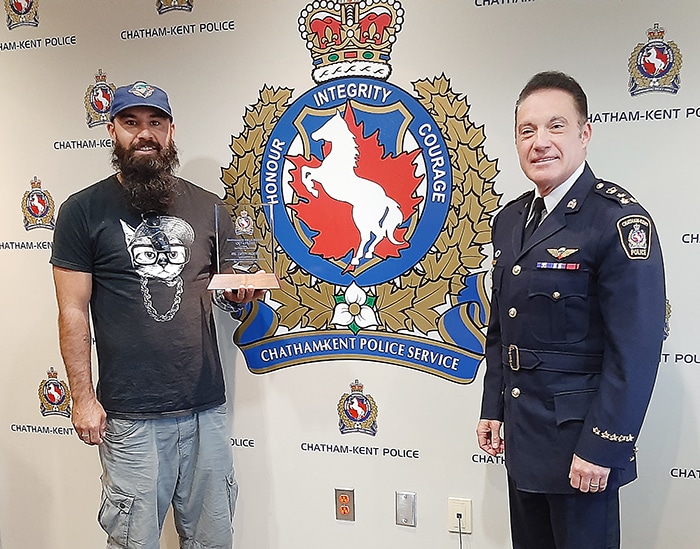 By Jenna Cocullo, Local Journalism Initiative
When Chatham-Kent resident Kevin Moore saw a man trying to kill himself, he quickly came to the rescue.
Now that individual has a second chance.
On Tuesday the Chatham-Kent Police Service (CKPS) publicly recognized Moore for his efforts by awarding him a citation from the police services board. A citation is awarded when someone has gone above and beyond.
"It's very nice they did something like this, but it's unnecessary. I did what anyone would do," Moore said.
On June 4, Moore was walking alongside his niece and nephew who were bike riding near the Black Bridge, in a secluded area of Chatham.
Moore then noticed that a man was in the process of hanging himself on the barge. He quickly ran to his aide and lifted him up on his shoulders. The next events happened so fast he couldn't remember the exact details.
"Either he took it off or it came off on it's own," he said.
What mattered was that the man's life was saved. Moments later, the CK police showed up after receiving a call of a suicidal man, but were at first unable to pinpoint his exact location.
"As a result of your courageous and quick thinking and efforts, your actions undoubtedly saved the suicidal male's life," said police Chief Gary Conn at the board meeting where outstanding residents and officers were recognized.
The Chatham-Kent officers gave the man first aid and he was taken to the hospital for treatment and evaluation.
Moore said he is unsure how the man reacted. As soon as the police took control of the situation, he quickly left to protect his young niece and nephew from the lingering image of what just happened.
Moore is just grateful he did not arrive a moment too soon and walked right by the potential life-ending event. He is also grateful he did not arrive a moment too late.
"It was very strange I was at that exact place at that time," Moore said.
Chatham councillor recognized
Former cop and Chatham Coun. Amy Finn is still going above and beyond her duty even in retirement.
In June she was able to help a Chatham woman seek medical help after the woman had barricaded herself for three hours.
Given Finn's new status, Conn felt it was most appropriate to present the Chief's Commendation at Monday night's municipal council meeting.
On June 27 frontline officers were asked to attend an address in Chatham to check on the well being of a woman who was suffering from paranoia and anxiety. The woman did not trust or like the police and would only speak to Finn.
Even when the police officers were able to enter the premises, she locked herself in the bathroom for three hours.
"The female resident continued to make hostile and hallucinogenic claims to the officers who were on scene," Conn said. "The female indicated she would only speak with retired CPS (sic) officer, Amy Finn."
Finn was immediately contacted and agreed to help the officers out.
"She attended and spoke in a calm and reassuring manner with a female, and was able to gain her trust which convinced the female almost after three hours of police interaction to exit the bathroom and allow medical professionals to examine her," Conn said.
The woman agreed with Finn and attended the hospital to be checked further.
Officers on the scene said they could not have done it without the help of Finn.
"You are being recommended for Chief's Commendation in regards to your dedication, professionalism, commitment, and community oriented partnerships, and it is further my pleasure to publicly recognize you for your selfless actions," Conn said.
Finn humbly accepted the recognition at the virtual meeting.
"It's a career that you never leave when you leave that door that's all I can say."