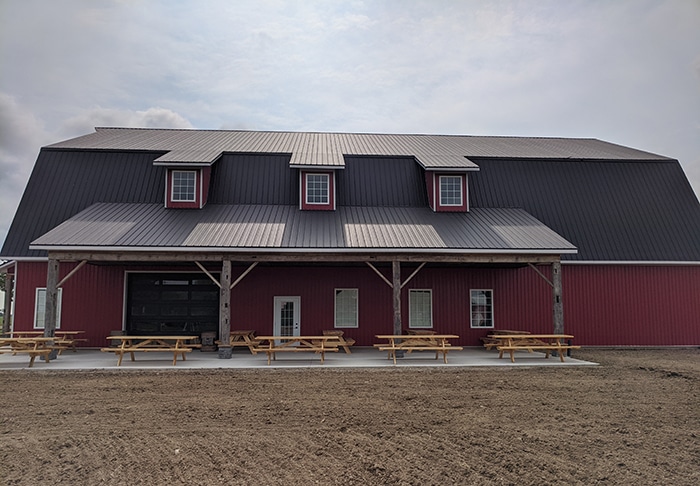 Red Barn Brewing Company officials said their patio is opening this weekend.
The craft brewery, located just north of Blenheim, will have its Farm Patio located on the west side of Red Barn. It is a large picnic-table-style patio that overlooks the farm. 
"I won't lie, the last few months have been tough for us, we have had to adapt to situations we never thought we would be in," co-owner Denny Vervaet said in a media release. 
Due to the nature of the ongoing pandemic, the team has decided to open the patio with online reservations. 
Online reservations for Saturday and Sunday open at 12:30 p.m. today and can be made for two-hour intervals at www.redbarnbrewing.com/farmpatio 
"We will take online reservations one week at a time because of the limited amount of tables available but we want to ensure we get to meet as many new guests as possible," co-owner Dan English said 
Also, for those that are not able to make a reservation or want to purchase beer-to-go, an even smaller version of their brew room retail store will be open on Saturday and Sunday for growlers to go. 
"We have a large patio and when we get grass growing next year we will have even more room in the hopes we can build a large beer garden," Vervaet said. 
Until then, the tables need to be properly spaced out to follow the health regulations during the pandemic, he said. 
Tables are for a maximum of eight people and the Red Barn team hopes that guests will follow local and provincial guidelines by attending with people only from within their circle. 
"All Covid-19 protocols will be followed by our staff. Please be patient with us as we never expected to launch in such an odd time, but we will get there," Sandy Vervaet, the third co-owner and wife to Denny Vervaet, said. 
The patio opening comes on the heels of the brewery launching its retail store to start July. 
They sold out of their product in two days.
"Our launch on July 1 was outstanding. We figured about 1,500 people came through the retail store – a few at a time due to Covid-19 regulations – and we sold what we thought was a month and half's stock basically overnight," Denny Vervaet said. 
Due to Covid-19, canning time is in high demand and being that Red Barn currently does not own its own canning line at this time, the owners contract a mobile canning company to come with equipment to hook up to Red Barn's beer tanks, leaving them with their beer in cans. 
"It was a long, yet exciting day when we canned (the night before) to be ready for July 1. We maxed out our tanks to put every last drop into cans and growlers," English said. "We never expected to deplete our inventory in just two days." 
That meant a return to the drawing board for the Red Barn crew, as canning time books out about two months in advance as of right now. 
"The goal was always to open our retail store, tasting room, and patio at the same time," said Sandy Vervaet. "Launching every different area of our brewery seemed weird at the time, but somewhere it has become kind of normal." 
The Covid-19 restrictions on how many people are allowed in the building or on the patio at a time has posed its challenges for opening a brewery in the middle of a pandemic, Sandy Vervaet said.
"There are some good things that have come out of our experience as well," she said. "We have been able to finish other areas of the building while launching the retail store and now the patio."
Comments
comments