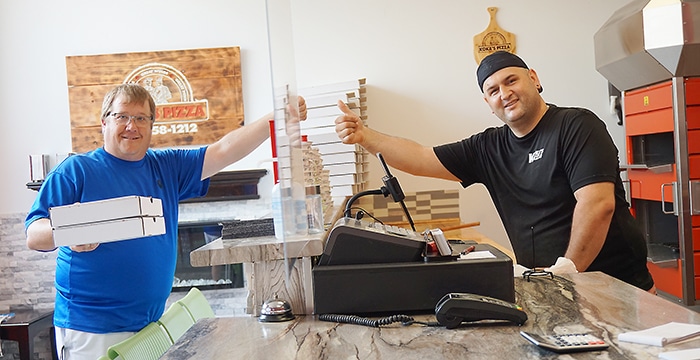 A friend of mine, Jeff Comiskey, put out a call for help recently on Facebook. He wanted volunteer drivers for this past Friday to drop off pizza and beer to a number of fathers in the community. (Image courtesy Cary Templeman)
By Bruce Corcoran
I offered my services, not sure of what exactly was in the works. Little did I know he and Phong Pham had organized the delivery of 300 personal pizzas and 300 Sons of Kent beers to fathers across Chatham-Kent!
I showed up at the gathering point, received my list, offered to take on more, and then realized I needed to grab Jenna from the office to help.
We called ahead and dropped off to various dads in Chatham, many of whom I knew, and I can tell you there is an easy way to put a smile on most guys' faces: pizza and beer.
Jeff said the idea came about from a Mother's Day initiative from one of the insurance firms he works with through All-Risk Insurance Brokers in Chatham.
"For Mother's Day, one of the life insurance companies I work with was giving out grants. I thought maybe we could do something unique and deliver lunches for 75 mothers," he said.
And they did.
Enter Phong Pham.
"Phong saw it and wanted to take it up a notch for Father's Day," Jeff said.
With the help of close to 30 other business people and businesses, they were able to take requests for about 300 pizzas and 300 beers.
The beer came from Sons of Kent, while the pizza was from Konstantino's and Koka's in Chatham, as well as Luigi's in Wallaceburg.
"It's tough to co-ordinate 300 pizzas. We had three pizzerias do it," Jeff said. "And we approached Sons of Kent and they were happy to work with us."
As the Chatham contingent of drivers broke up and went our separate ways, half to Koka's half to Konstantino's, the real fun began for the drivers.
Being the Friday of the Father's Day weekend, some folks were out of town. One gentleman was in the Leamington area and he asked me to pass on the pizza and beer to a deserving father, so I reached out to my pal Pete, a fan of Sons of Kent beer, and a father of two.
As we took on a total of 12 deliveries, it was a bit mish-mash-ish. Almost all were in the north end of Chatham, but not all were home at the time of our calls. We had to circle back a couple of times, but the pizza and brews wound up where they belonged.
We surprised most everyone on our list, and all thought it was a great idea.
Jeff and Phong knew it would put a smile on many a guy's face.
"We can't deliver a good baseball game or a golf tournament (due to COVID-19), but we could do two out of the three perfect things for a father on a lazy day," Jeff said.
Oh, and one of the names on my list Friday: Bruce Corcoran.
Jeff said he knew I was a "dad with a daughter" and added me to the list. The pizza was delicious and the beer was awesome.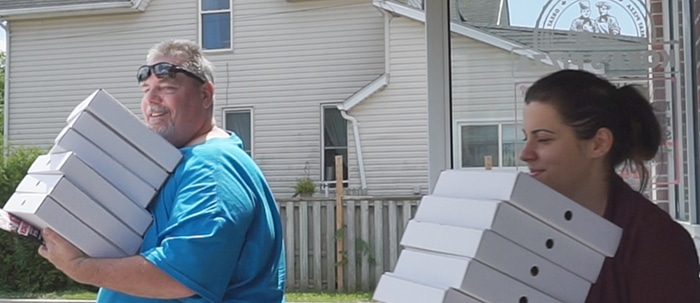 Comments
comments