Anne Taylor of Habitat for Humanity looks at all the food gathered at Habitat's Riverview Line location on Saturday as part of the May 16 Miracle effort. Staff and volunteers had to house some of the food in Habitat's store, as they ran out of space in the warehouse.
Thousands of volunteers, tens of thousands of items donated
The Corcorans enjoyed a special Saturday over the weekend, doing our small part to help make a miracle happen.
Mary Beth, Brenna and I hopped into the pickup truck Saturday morning and headed up to Wallaceburg as volunteers in the May 16 Miracle.
I must say, a great deal of planning went into the event, where citizens of Chatham-Kent were asked to leave out a non-perishable food item on their front porches to be picked up around noon on Saturday. The goal was to help stock the shelves of the food banks around C-K, as many people are out of work and as a result more are turning to the food banks for help.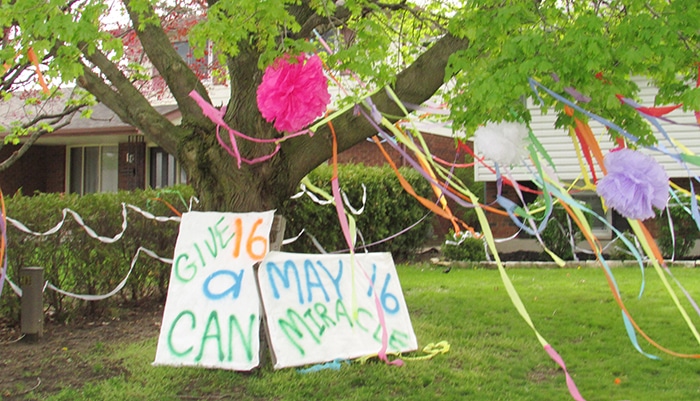 Further, with grocery shopping being an anxiety-riddled event for some during the COVID-19 reality we all face, donations are way down.
On Saturday, thousands of volunteers changed all that. Organizers said so much support came in that many drop-off locations saw double the amount of food expected.
Even with totals still unknown, it's pretty safe to say mission accomplished.
We Corcorans were tasked with a portion of Murray Street in Wallaceburg. We headed down one side of the street, with Brenna and Mary picking up bags and boxes of food left on porches.
Not everyone left an item. But those who did rarely left just one. We encountered homes where there were boxes of goods.
In no time at all, we'd gone up and down our part of Murray Street, waving and chatting (from a distance) with residents who were out and about on such a nice day.
It was a great atmosphere.
We had mostly filled the back of the pickup in under an hour, and lined up at the drop off point to unload.
There, volunteers took the contents of the back of the truck and piled it up for sorting and eventual filling of trailers that were on hand.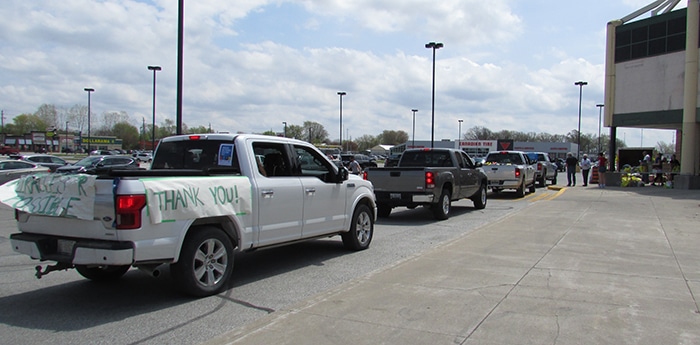 We couldn't believe all the food! Then again, the giving nature of the people of Chatham-Kent continues to amaze me.
Stuart and Tammy McFadden served as Wallaceburg captains for the event. They too were in awe.
"Well … not much we can say other than wow!! We talked about being part of a miracle during our first e-mail on May 7. On the 16th, we knocked it out of the park!" Stuart commented via e-mail. "We are estimating 350 volunteers, over $6,000 in cash, gift cards and cheques and 20,000-25,000 non-perishable items were donated.
"We sent multiple trucks and trailers to St. Vincent DePaul and Salvation Army food banks on Saturday, which they are working through."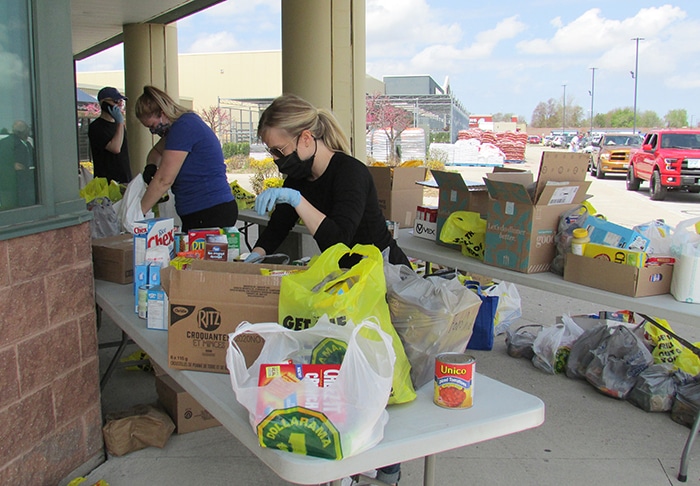 But that's not all.
"We still have four large trailers filled with items and are making arrangements to start distributing that. It will take a couple weeks to get things disbursed," he said.
"This community never ceases to amaze me. Just always know you helped make a miracle happen. We are all blessed because of your efforts," Stuart said in an e-mail to volunteers.
And that was just from Wallaceburg.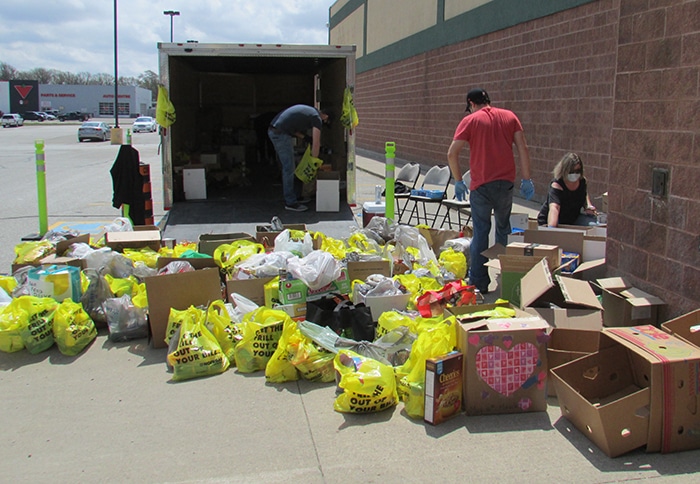 Brent Wilken, one of the event organizers, said Habitat for Humanity served as a depot for temporarily housing food until it could be sorted and transferred to area food banks. It set aside space in its warehouse, but that filled up, and staff and volunteers had to use part of the store to house the overflow.
In Blenheim, the Blenheim Baptist Church and the Youth Centre served as depots. They too ran out of room.
Chatham's Jeffrey Comiskey volunteered at Thames Campus Arena, another collection point.
"I was happy to be a small part of the day. I got some exercise and a warm heart seeing all the generosity of all of the residents in Chatham-Kent. It was quite amazing to watch it take shape. Well done, Chatham-Kent," he said in a social media post.
Organizers estimate more than 3,000 people volunteered to help make the Miracle a reality.
Brenda LeClair of Outreach for Hunger in Chatham said she's not yet sure what amount of food will be coming in their doors from the event. She was quite impressed with the effort on Saturday, however.
"The support from everyone was overwhelming. It never ceases to amaze me the volunteers who will come out to make an event of this magnitude happen. No one does it like Chatham-Kent people," she said.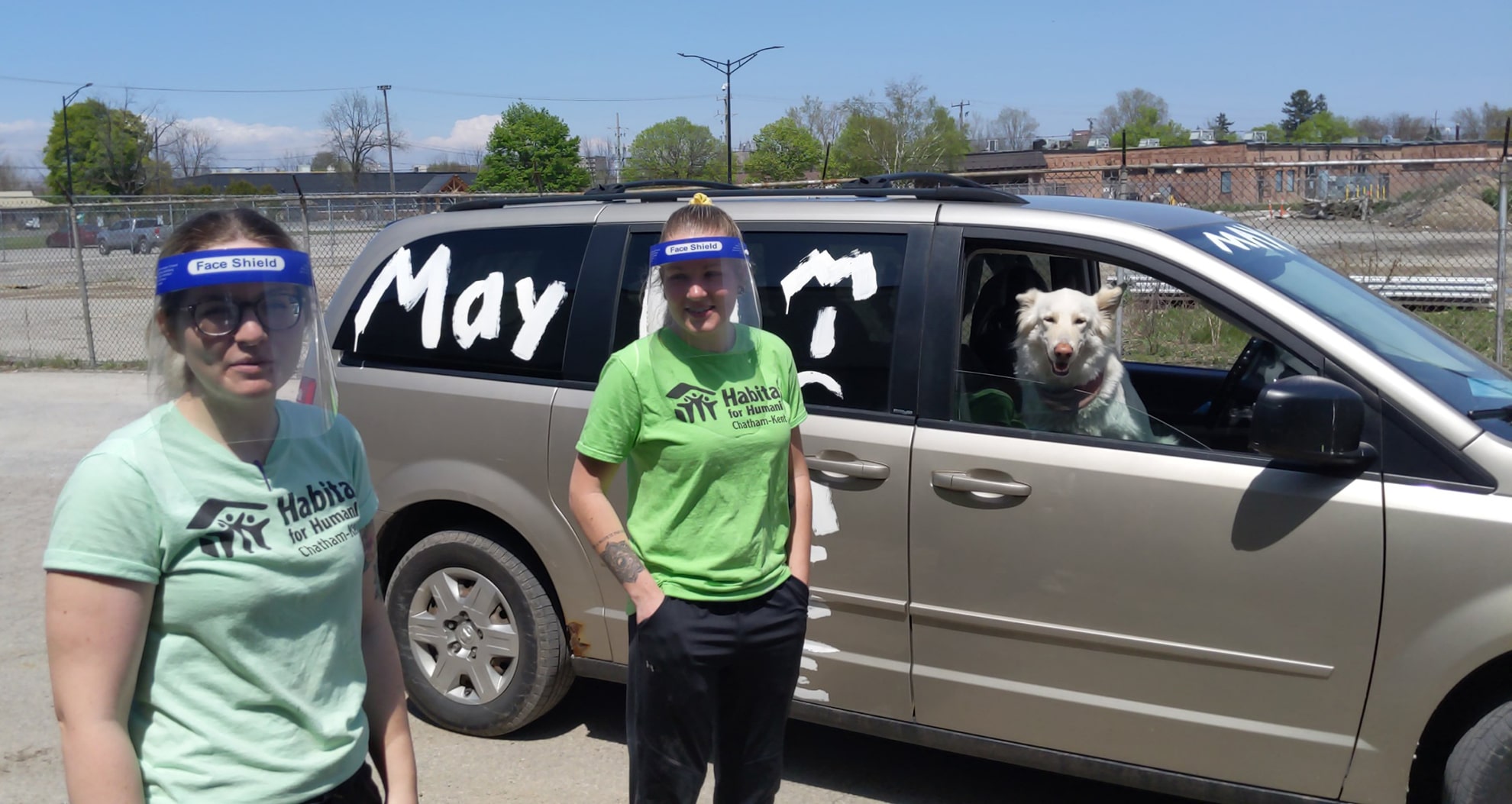 LeClair said she loved the Miracle idea.
"I think this was a wonderful concept; so easy for people to be involved and it was a great way for the community to engage and make a difference to so many at the same time," she said. "Chatham-Kent was ready for some positive news and this was it."
Will the Miracle become an annual event?
LeClair hopes so.
"I think it will become an annual event and I think this time of year is perfect. The weather is good and food banks often struggle during summer months, so a May drive is perfect," she said.