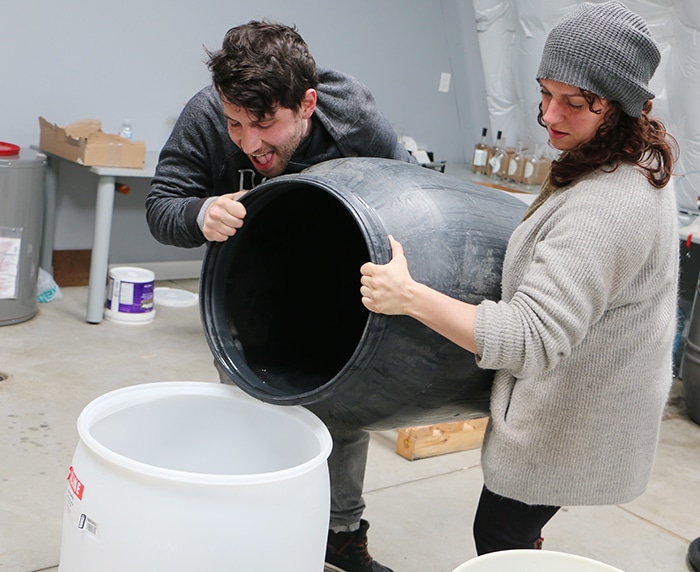 By Bruce Corcoran
A local distiller is increasing its focus on producing sanitizer earmarked to help local businesses.
Bootlegger Distillery of Bothwell, makers of vodka, and the producer of the Nurse No. 9 sanitizer for local health-care organizations and not-for-profit groups, is expanding to include supplies of multi-purpose sanitizers for local companies seeking to re-open.
Michael Brnadic, owner of Bootlegger Distillery, said bulk purchases of the product are now available, as they are expecting to receive a shipment of 3,000 litres of alcohol from Greenfield Global. This on top of the 1,700 litres already supplied to create Nurse No. 9.
Brnadic said making the first batch to help front-line responders and health-care officials was a no brainer. And they will continue to produce it for them. The shift to help local businesses was also a simple decision.
"At first, I didn't think it would be anything more than the charitable aspect of it," he said of Nurse No. 9. "But after that, we started getting farmers and other business owners interested in purchasing it by the litre. The demand for it is going to stay there."
So too is the price gouging – except not by Bootlegger. Brnadic said some companies are charging $20 to $50 for a litre of sanitizer online. Bootlegger's price will be $8 a litre.
"We're not gouging. We're trying to keep prices around what they were before COVID-19," he said.
Brnadic said the Bootlegger sanitizer works fine for hands or surfaces. It's not a gel, but has some glycerol added to it to provide some stickiness to adhere to one's hands.
"The best is to have it in a spray bottle. You can spray on people's hands and on the surfaces."
Brnadic said it's a simple process to sign up to purchase the sanitizer, but orders are a minimum of 10 litres. Go to handsanitizerontario.com and fill in the application form.
Business such as Accuracast, All Risk Insurance, KSR and The Glasshouse have already started to work with Bootlegger Distillery for their needs.
One issue, however, will be the containers for the sanitizer. Brnadic said at first, the Bootlegger sanitizer will come in varying sizes based on what containers the company can purchase.
"The containers are all over the place. It's never the same. The supply of containers is not consistent," he said, adding that should even out over time.
Plus, if a business wants to supply its own container, that is an option as well.
While Bootlegger has some sanitizer on hand presently, he said it will take a few days from when they receive the next shipment to when they will be able to ship out the sanitizer. Once it's made, he said the sanitizer takes about two or three days to settle.
As for if Bootlegger will continue producing sanitizer in the longer term, Brnadic said he's not sure.
"It's just a starting point for now. We'll see how it goes. It's an interesting side business," he said.
The primary business for Bootlegger is vodka. Brnadic said he was supplying his product to bars and restaurants around the London area, but COVID-19 has temporarily dried up that market.
The goal is to get Bootlegger vodka into LCBOs across Chatham-Kent by early June.
"The aim is to get into the 20-25 LCBOS in Chatham-Kent for starters. If you prove yourself there, you can expand," he said.
Bootlegger wants to produce gin as well, but Brnadic said that's on the backburner at the moment.
Comments
comments