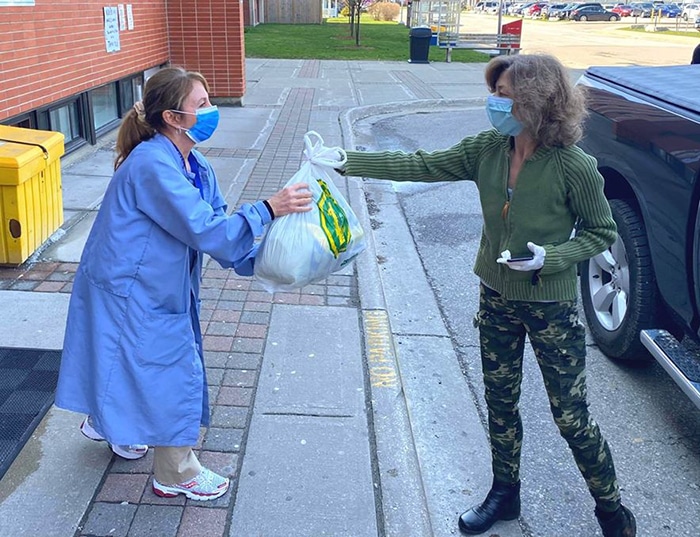 By Bruce Corcoran
Even as municipal officials put out a call for personal protective equipment for local health-care workers, citizens such as Becky Fixter are a step ahead of them.
Fixter, a local artist, dropped off a supply of fabric masks for the oncology department of the Chatham-Kent Health Alliance on Wednesday. She said the 150 or so masks for patients and caps for staff are just the beginning.
"That's just getting started. We'll have another huge shipment for the hospital to hand out at the front desk and to hand out to patients at the hospital," she said.
The "we" are people who answered Fixter's request for help on social media. For the first shipment to the hospital, seven sewers helped make the masks and caps, and others donated fabric, money, or other supplies.
Fixter said by sewing masks and enticing others to do so, she is "just trying to do my small part to help us in my community get online with this."
She's especially concerned about segments of the population that could be particularly hard hit by COVID if they contract the illness.
"I really want to help the elderly, the vulnerable and the immuno-compromised in our community and those in the hospital," she said, adding chemotherapy patients are of particularly high risk as their immune systems are wiped out by the treatments.
Fixter urges everyone to wear a mask of some kind, even if you don't think you are sick.
So many people are silent carriers. They're out there running around infecting others. They don't understand that if you wear a mask, it stops you from passing it onto others. It's the responsible thing to do," she said.
Dr. Theresa Tam, Canada's chief public health officer, recently changed her tune and said non-medical face masks are useful to help prevent the spread of COVID-19.
"Canadians can take this additional measure in instances where social distancing is difficult to maintain," Tam said earlier this week.
Prior to that stance, Tam had said the masks would offer a false sense of security and some people might forget to adhere to social-distancing needs.
"A non-medical mask can reduce the chance of your respiratory droplets coming into contact with others or landing on surfaces," she said.
Fixter said she got the idea to make the masks when searching online and noticing other people were making masks in their areas.
"I've sewn for years and I just started sewing (masks). I then put it out there to see who would like to help and I was amazed how many people stepped up, donating time, money, materials, cutting or sewing," she said.
Fixter said Jay Dillon of DPM Insurance in Tilbury donated a number of reusable grocery bags – ones that were to be handed out to clients – to instead be used to make masks.
"He donated dozens of these bags that we've been cutting up and sewing into these masks, and DPM has also donated money," she said. "I've had all kinds of people bring piles and piles of linen and sheeting. It's been absolutely amazing."
As for the local effort, Fixter said she and her fellow sewers will stick to it.
"We'll just keep working at it and hopefully we can make some kind of a difference," she said.
Looking to help? Message Becky Fixter on Facebook Messenger or e-mail her at fixterart@gmail.com.