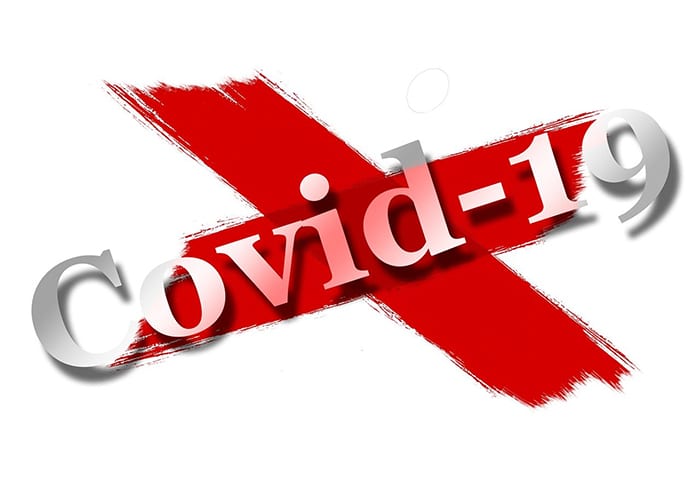 Some folks are rather shocked to see that others had continued to travel in recent weeks, even prior to the COVID-19 pandemic announcement.
I mean, we live in Chatham-Kent. How else will COVID-19 come here? Sure enough, the first two cases for C-K were travel-related.
No way I would have travelled once news broke the virus was out of China. But that's just me. I have asthma, and respiratory illnesses aren't kind to me.
Other folks weighed their options and their chances of contracting the illness, and made informed decisions. For the vast majority, the fallout is two weeks of isolation coming back from wherever they went.
We have friends who went south for a getaway. They came home and are in the middle of their two weeks of isolation. Good people doing the right thing.
And last week when their home food supply was dwindling, they reached out. My wife, Mary Beth took their list of items and went to the store on their behalf, left the items on their front step and called to let them know they were resupplied.
Remuneration came in the form of an eTransfer.
Simple and safe. Self-isolation was not interrupted. People got food.
One of our coworkers went through a similar experience. She had a family member and his wife and kids come back from a trip south late last week. They made arrangements with her to pick up some groceries and stock their fridge and shelves before they returned, so there was no worry of potential exposure to our coworker, who is mostly working from home these days anyway, or anyone at a grocery store.
Little moves such as this, or getting food for your elderly neighbour, could ultimately flatten the COVID-19 curve or save lives.
Pay it forward
With all the hoarding and selfishness taking place out there these days, it's great to hear of the good news that's happening. On social media, McDonald's employee Mackenzie Vollans posted last week that while at work at the St. Clair Street outlet in Chatham, a woman ordered a coffee, came up and handed Mackenzie a $50 bill for the $1.05 order.
The McDonald's employee said the woman instructed her to use the $50 to pay for as many orders behind the woman as possible.
This occurred in the middle of some cranky customers, so to Mackenzie it was a breath of fresh air.
But it got better.
As Mackenzie told the follow-up patrons what the woman was doing, they wanted to get in on the kindness.
"People were paying for each other's orders for like 10 vehicles down the line. That $50 went way further than anyone anticipated. It brought a smile to all their faces and THAT was beautiful to watch," Mackenzie posted.
Nice.
Ignorance is not bliss
I have to say, catching some TV news interviews last week of 20-somethings partying on the beaches of Florida en masse and having the nonchalant attitudes of "if I get corona, I get corona. We have planned this trip for months…" or "all this negativity is putting a downer on my partying…" at first had me thinking it would only be fitting for these schmucks to get the virus.
Except folks with such selfish mindsets will come home from those close-proximity, all-hours partying, repressed immune system vacations and promptly ignore calls to self-isolate for 14 days after returning home.
Yeah, better they not get it, because those people will surely spread it.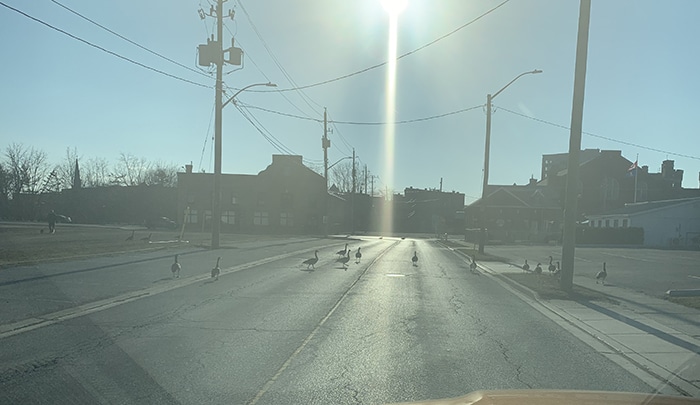 Controlled by geese
Heading home on a recent evening, after a day of COVID-19 coverage overload, Mother Nature gave me about two-dozen reasons to just press pause.
OK, I had to hit the brakes as there were Canada geese hanging out on Colborne Street in Chatham. There were 20-plus on the side of the road, on the road, or slowly walking across the road.
A goose gang? They certainly didn't look remotely intimidated by my truck.
I stopped in the middle of the road and waited them out. It took about a minute. Even a passerby and his large dog did not cause them any alarm.
Timing is everything
It appears I have to clarify my most recent column. To at least one reader, it sounded as if our family soup night had just taken place in the middle of the call to self-isolate over COVID-19.
Well, it didn't. I did say "recently" in my column but the night took place in late February. We've been jamming a lot of news into our paper of late, and I have pushed my column to the back burner at times.
When I get an idea in my head, or something takes place I want to comment on, I input that information into my files and bring it out at the earliest opportunity.
Sometimes material does not see the light of day, while at other times, it can be delayed by a week or two.
The latter is what happened to the family soup night. Soup is just darned good. You can make it for your immediate family during these times of self-distancing.
Comments
comments