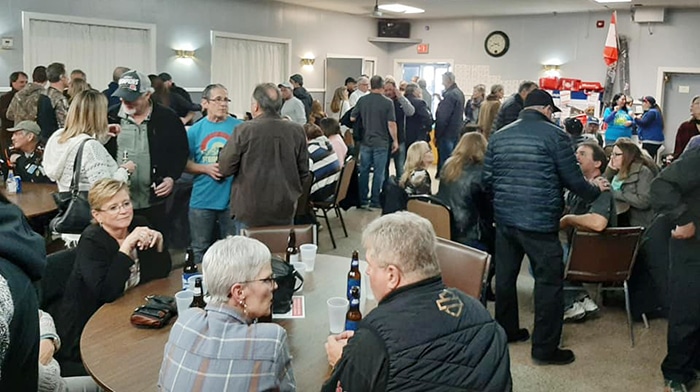 By Mary Beth Corcoran
Editor's note: This event took place prior to all COVID-19 warnings against large gatherings.
Three friends had an idea to get people together while they were still able because they were tired of only seeing people at funerals. That idea resulted in $10,000 raised for the Chatham-Kent Hospice recently at the third annual Gathering of Friends event at the KBD Club.
Mike Dorner, Howard Morton and Ray O'Phee were "ecstatic" with the turnout – more than 600 people were through the KBD Club – and the amount of money raised that doubled their expectations.
According to Dorner, between the freewill offering jar, door prizes and donations, the trio was able to hand over $10,000 to the Hospice Foundation, upping last year's fundraising effort of $4,200.
"The three of us are just ecstatic; we never expected it to be this good," Dorner said after the fundraiser. "You know, Ray said, and he's right, we're just three normal, average guys who wanted to do something good."
The idea started after the three men connected after a mutual friend was admitted to hospice care and passed away. They met at the funeral and commented that they shouldn't wait until a funeral to get together with old friends. Impressed with the care their friend received at the Chatham-Kent Hospice, they linked their event with raising funds for hospice and a successful annual fundraiser was born.
Dorner said they are shocked but pleased with the reaction of the public to the event and said people from other municipalities have approached them about doing similar fundraisers in their area.
The men wanted to thank the generous people and businesses that donated door prizes, the KBD Club for hosting, those folks who provided the entertainment and Rachael Laidler at Fuel for You for cooking and donating back, and hospice volunteers who helped with the party.
Chatham-Kent Hospice executive director Jodi Maroney said her organization if grateful for the public's support and appreciated the work the three men put into the fundraiser.
"We are so grateful to the organizers and attendees of Saturday's Friends of Chatham Gathering. This event represents what Chatham-Kent Hospice is all about – living each day to the fullest! The proceeds from this event will help us continue to provide hospice end-of-life care to local families at no cost to them. With government funding covering only 50 per cent of our budget, we rely on donations from the community to make up the difference. Chatham-Kent is a very generous community and the results from this event proves it," Maroney said.
Plans are already underway for next year's Friend Gathering.
Comments
comments