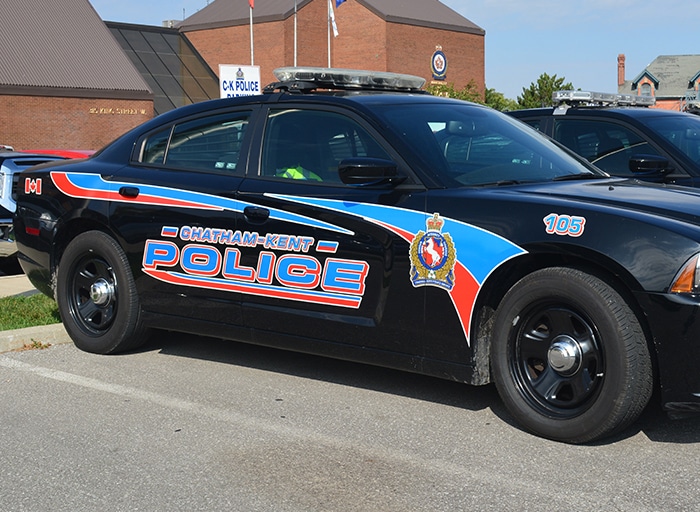 Fire @ , Wallaceburg @ 19:38
Chatham-Kent Police and Fire received a call of a structure fire at an address on Brownlee in Wallaceburg.
A male party at this location suffered injuries from the fire and transported to Sydenham District Hospital.
The Ontario Fire Marshall is currently investigating this fire. Any information can be forwarded to Det. Abbott/Det Hamilton of the Chatham-Kent Police.
Mischief/Arrest @ Murray St., Chatham @ 22:56
Chatham-Kent Police received call of unknown female out of control yelling for police and smashing windows at an address on Murray Street.
The female fled from police and continued to smash windows.
She was arrested for mischief and transported to Chatham-Kent HQ where she was lodged and to be released on mischief charges when sober.
Mischief Murray St., Wallaceburg @ 13:50hrs.
Female who currently resides in Sarnia, today got into a verbal argument with her ex-boyfriend.   The male proceeded to kick and damage her vehicle causing damage to it. The male was to be located and charged with Mischief.
Theft/Warrant @Walmart, Wallaceburg @ 19:21
While on patrol, employee of Walmart approached an officer on patrol and advised that a male party that was driving away on his bike was believed to have shoplifted from Walmart.
The accused was located and had on his possession, a bag full of meat and some other articles from Walmart.  The accused admitted to stealing from Walmart and was arrested for theft and possession under.
Through investigation, it was revealed the accused was on a recognizance not to attend Walmart as well as an outstanding warrant.
The accused was transported to Chatham-Kent Headquarters, charged with theft, possession under, and fail to comply with release order and held for bail.
Comments
comments
« Grim reality: Have your estate plans in place in the face of COVID-19 pandemic Monday police briefs »