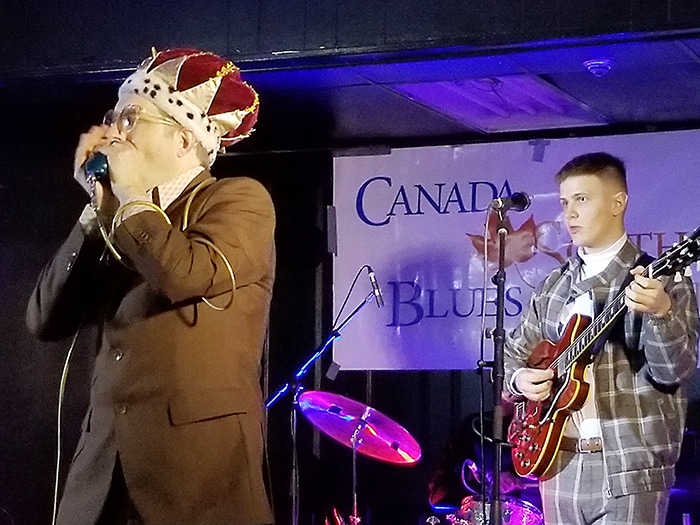 We finally managed to get to a Canada South Blues Society (CSBS) event recently, and we certainly weren't disappointed.
The Cash Box Kings left it all on the stage. In fact, co-frontman Oscar Wilson left some of it on the dance floor, as he sang several songs from in front of the stage and patrons danced around him.
The Chatham Voice is a sponsor of CSBS events in Chatham and several of us from work, along with friends Pete and Arlene, attended Feb. 15's show at the Kent Belgium Dutch Club on Byng Avenue in town.
We got delayed and arrived only a few minutes before the start of the show. That was a mistake, as the parking lot was full, as was the venue. There were a smattering of seats available throughout the hall, but CSBS board member Aug Polowick managed to find us a spot to sit together.
We and about 275 other folks filled the hall to enjoy the classic blues stylings of the Cash Box Kings.
Wilson, even though he was fighting a stomach bug, delivered huge vocals, performing classics such as "The Thrill is Gone," as well as Cash Box King originals galore.
They ended the night with "Mustang Sally." You could not see Wilson as he belted it out just in front of the stage, as patrons flocked to the dance floor.
For anyone who enjoys the blues, this was the place to be.
Wilson grew up in a very tough neighbourhood in Chicago. The veteran bluesman sings from his soul and through his experiences.
Co-frontman Joe Nosek, who handles a good portion of the singing duties, and really stands out on harmonica, had energy to spare where the ill Wilson did not. His stomping style while playing reminded me of a young Dan Aykroyd in the original Blues Brothers.
These guys entertained for two long sets, offering some great slide and lead guitar work, as well as that sizzling harmonica and earthy vocals.
We left impressed, and realizing how underappreciated the blues are around here. I caught Sue Foley years ago when she came through town and played at the Cultural Centre. Great Canadian blues artist and devoted fan of old-school blues in her own right.
I've popped into the Shrewsbury Ribs N Blues Fest to take photos in the past, but haven't stayed.
Others are smarter then I am. Many are members of CSBS. They are a pretty dedicated bunch whose organization brings in top-shelf blues performers to Windsor and Chatham.
If you like the blues, I'd urge you to check out the society's shows. Better yet, become a member.
It's $25 for the year, and that gives you $10 off each show. There are still four shows left in the year.
CSBS folks told us it's thanks to the dedicated membership, and sponsors such as The Voice, that they can manage to bring in such quality acts.
For more information, visit http://www.bluessociety.ca/