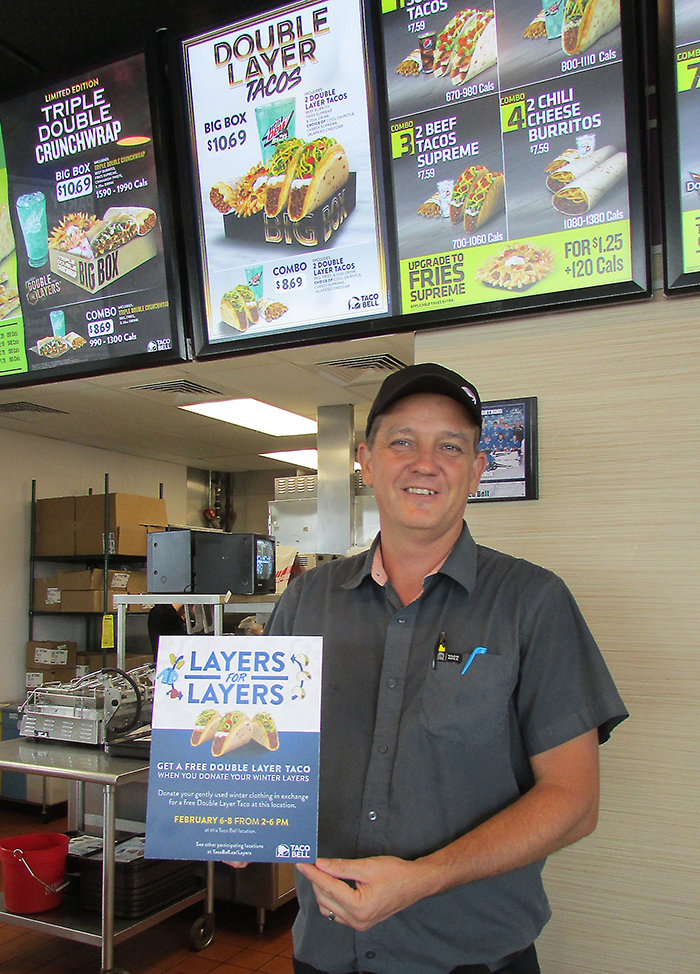 With snow finally in the air in Chatham, keeping warm is a priority for people. To help out that cause, and to coincide with the return of the limited-time Double Layer Tacos, Taco Bell Canada has launched Layers for Layers.
According to Chatham Taco Bell Manager Shawn Johnson, from Feb. 6-8, between 2 p.m. and 6 p.m., simply bring in a few layers of clothing to the Taco Bell on St. Clair St. and you'll get a coupon for a free Double Layer Taco in exchange for your donation.
The Double Layer Taco is a hybrid – a crunchy, hard-shell taco wrapped in a soft tortilla shell – with nacho cheese sauce in between, made with taco ingredients.
Johnson said the donations of clothing will go to the Ontario Federation for Cerebral Palsy (OFCP), whose programs and services are funded almost entirely as a benefit of the collection and resale of used clothing and other used goods.
With Taco Bell for over 30 years, Johnson said his company takes pride in giving back to the community, and one of the other giving initiatives he supports is helping the homeless get a hot meal.
"We give out 20 combos every month to the homeless in our community. We try to help out where we can," he explained.
With the limited-time return of the Double Layer Taco, it was a chance to do more for the 35 Taco Bells in Ontario that are participating, Johnson noted. Items they are looking for are jackets, sweaters, hats, scarves and mitts for the donation.
"Taco Bell Canada is known for doing unexpected things when launching a limited-time menu item, and Layers for Layers is exactly that, but with an added layer," said Veronica Castillo, head of marketing at Taco Bell Canada. "We're sharing our love of tacos and love for our local customers by extending the giving season and giving back to local communities and those in need with the help of our customers."
In addition to accepting donations in-store, Taco Bell Canada will also match the would-be profits from each Double Layer Taco given away between Feb. 6 and 8, in support of Boys and Girls Clubs of Canada and the work they do to encourage and empower children, youth and families across the country.
Comments
comments