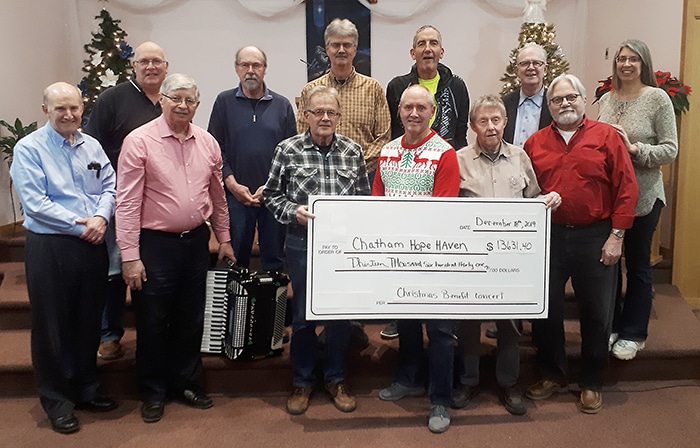 A Christmas benefit concert sent three times the funds it raised last year to Chatham Hope Haven.
The event, which took place Dec. 7 at First Presbyterian Church, raised $13 631.40 this year.
Along with the C-K Christian Men's Choir, performers included Ron Bolohan "The Accordion Man," soloist Mikayla Lozon, the Dover Centre Ladies' Choir, "One Accord" men's quartet, organist Nancy Tapley and pianist Joy Anderson.
At the concert, past Hope Haven client Ernie Martin spoke to the crowd, thanking them for their kindness.
Martin now works full time, and now volunteers at the men's homeless shelter.
Hope Haven's Wanda Bell thanked those who participated and attended the concert. She reminds the community that the need is year-round, and money, food and volunteers are always needed. You can call 519 351-4010 for more information.