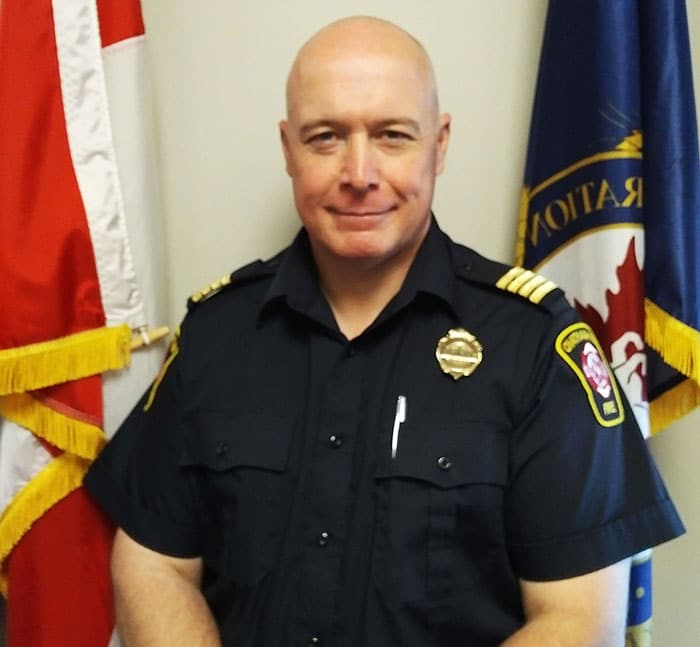 Chatham-Kent Fire and Emergency Services will have a familiar face at the helm starting this month after the retirement of Fire Chief Bob Crawford.
Assistant Fire Chief Chris Case will take over as Chatham-Kent Fire Chief effective Dec. 6.
John Norton, Chatham-Kent General Manager of Community Development, said Case was hired following an extensive nation-wide search and recruitment process to replace Crawford.
"Among a large group of capable applicants, Chris emerged as the best candidate to lead the fire service into the future," Norton said in a media release. "I have observed Chief Case for several years now and I know that he has the respect of his peers, firefighters, and the wider community. I have the utmost confidence that we have selected the right person for this role."
Chatham-Kent Chief Administrative Officer Don Shropshire said, "We welcomed Chris to the community in 2016 and he has been a major contributor to the fire service and Chatham-Kent ever since. I'm happy to see him step into the chief's position."
Case has 28 years fire operations experience, joining Merseyside Fire Brigade in Liverpool, UK in 1991. He rose through the ranks, serving in all aspects of fire department work including operations, special operations, administration, planning, training, and command. Notable roles include forming the UK's only dedicated fire and explosives task force to deal with arson and explosives crime and a lecturer to the UK Fire Service College.
Case moved to Canada in 2016 to take up the post of Assistant Chief in Chatham-Kent, bringing his wife and four children. Since then he has held the post of Operations Chief and continued to serve the communities of Chatham-Kent. Nominated by the Province of Ontario, the family were granted permanent residence status earlier this year.
"Since arriving in this wonderful community over three years ago, I have enjoyed every day serving alongside our outstanding firefighters to safeguard the communities of Chatham-Kent. I am lucky enough to have an outstanding team here at work and at home. The endless support from my family and the teams at CK Fire has made this next step in my career possible. I cannot express how thankful I am for this opportunity and how much I am looking forward to being your fire chief."
As for Crawford, he isn't sure what lies ahead for him or what "retirement" will look like, but he is appreciative of his time working as a firefighter in the community.
"For over forty years, I have enjoyed a career as a firefighter. I have been deeply involved in my community, through both my work and personal life. Investing time as a volunteer with community organizations I have been fully engaged wherever I have made my home. At each stage in my career, I have taken the initiative to continuously improve my education and training. I worked as a firefighter and as a line fire captain in North York from 1979 to 1996. When the chance to move into a new role as a staff officer presented itself, I accepted an assignment to the emergency planning, research and development division based in North York as district chief, and subsequently in a similar role with the newly-amalgamated city of Toronto, assigned to Toronto Fire Headquarters from 1997 to 2001. Whether as a firefighter, a captain or as a chief officer, I remained focused as a committed person working in emergency services, seizing each opportunity to learn and become a better person," Crawford said in a prepared statement.
"For now, I am considering what challenges and opportunities might lie ahead in my career trajectory. The word "retirement" conjures up images of elderly folk playing shuffleboard in a Florida holiday camp, and I am resisting this notion. While this may well be my fate, I will wait to see what is around the next bend in the river, and take it as it comes."
Comments
comments