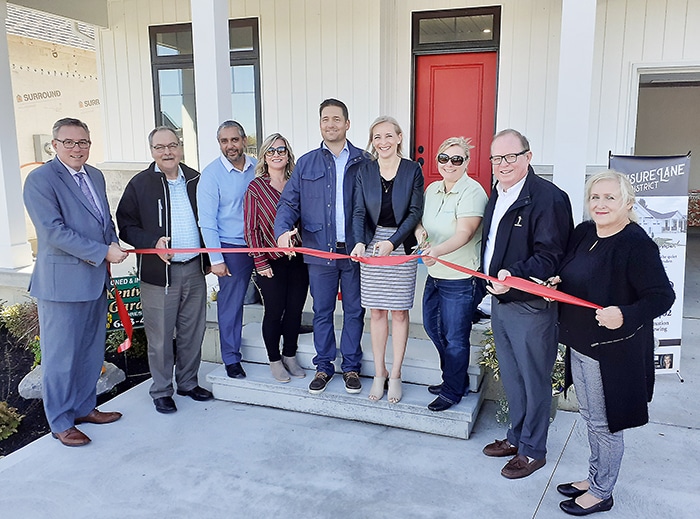 New home construction has recently heavily focused on Chatham, but that is changing as a group of Dresden natives announced a bold project in the North Kent community recently.
Leisure Lane District will see 20 homes built in that subdivision. Local realtor and Dresden native Krista Mall is in partnership in the development with Dave Depencier of Depencier Homes on the project. They held a ribbon cutting at the site Oct. 22.
Mall said she and Depencier and their spouses are proud to call Dresden home and came together for the project to help increase local home inventory and provide options for prospective home buyers.
Mall said teaming up with Depencier just made sense.
"We're like-minded people. We teamed up last summer and formed our company," she said. "It started with a single-family home and it was like a flip. We then thought we'd look at going bigger."
The focus is indeed on Dresden.
"We're trying to keep things in our community," Mall said. "We wanted to keep it in Dresden. We all live here. We're trying to bring people here."
Mall said Dresden offers small-town charm for retirees and families alike.
"A lot of retirees love to come here because it's quiet and safe. But it's also a great place to raise your kids," she said. "Many who live here may not work here, but it's so close to everywhere."
Depencier said optimism is the best policy.
"For any community to grow, you have to take a chance and you have to step outside the box, and that's what we did," he said. "Small towns can sometimes get forgotten. If you stick with it and take chances, then you won't get left in the dust."
Stuart McFadden, director of economic development for the municipality, welcomed the announcement.
"It's great for Dresden and great for Chatham-Kent," he said. "Dave and Krista, they both live in Dresden. They're proud of where they live."
North Kent Coun. Jamie McGrail praised the developers for their forethought, investment and quality of work.
"Thank you for being a very active part of this community and making Dresden your home," she said in a media release.
McGrail also praised Dresden residents for making it an attractive community.
"Without the citizens, service groups, hometown shops and hockey teams, to name a few things, Dresden would not be what it is today. Neighbours working together raise community together," she said.
Mall said all 20 homes won't be erected overnight, as construction will take place in tiers. But the subdivision will feature a variety of options, with prices starting under $300,000.
That price point is for semi-detached homes, which Mall said are earmarked for retirees and single families.
"There's also the option of coming across the street and building your own smaller single-family home. They are all on one floor and are about 1,500 square feet," she said.
Larger lots are also available for larger homes.
Mall said they will have a model single family home and another semi-detached ready in the spring.
Depencier said new housing is of huge importance in Ontario, regardless of the size of the community in question.
"In the next ten years, Ontario is going to need one-million new homes. That's a staggering amount of homes that are required, and we have to do our part right here in Chatham-Kent and Dresden," he said. "We have to make them affordable and we have to make them accessible. We are very proud to open our doors and invite new people here."
McFadden said the project will provide additional options to the C-K housing market, one that is short on inventory.
"That's the great thing about Chatham-Kent. Each community has its own special nuance," he said. "It's all about where you want to live and in what type of style do you want to live."
McFadden added the project will help grow the population in Chatham-Kent, as housing is in strong demand.
"We've got to grow our population to take advantage of the jobs that are available," he said.
Much of the larger-scaled home building taking place in Chatham-Kent is happening in Chatham, Mall said. She pointed to the aggressive large-scale build by Maple City Homes in southwest Chatham.
But she believes there is no competition between that project and Leisure Lane. In fact, Mall said they are complimentary, just as her work beside fellow Royal LePage Peifer Realty rep Carson Warrener, exclusive listing agent for Maple City Homes is supportive.
"Carson really helped me out with stuff. And if someone's coming from the GTA, if they are not looking in Chatham, he will send them my way. If someone prefers to live in Chatham, I will send them his way," she said. "It's not like we're one street over from Maple City Homes. It's not a competition. We're working together and giving each other leads."
In fact, when The Voice caught up with Krista on Monday, she was showing homes in Dresden at Leisure Lane and was to show clients options through Maple City Homes the same day.
Leisure Lane District adjoins the neighbouring subdivision of Venture Crescent and together they represent Dresden's largest housing expansion in 30 years.
Some Leisure Lane District homes are already on the market.
For additional information on the Leisure Lane District or for sales inquires, visit https://depencierbuilders.com/lots-still-available-in-leisure-lane/or contact Mall at kristamall@royallepage.ca.