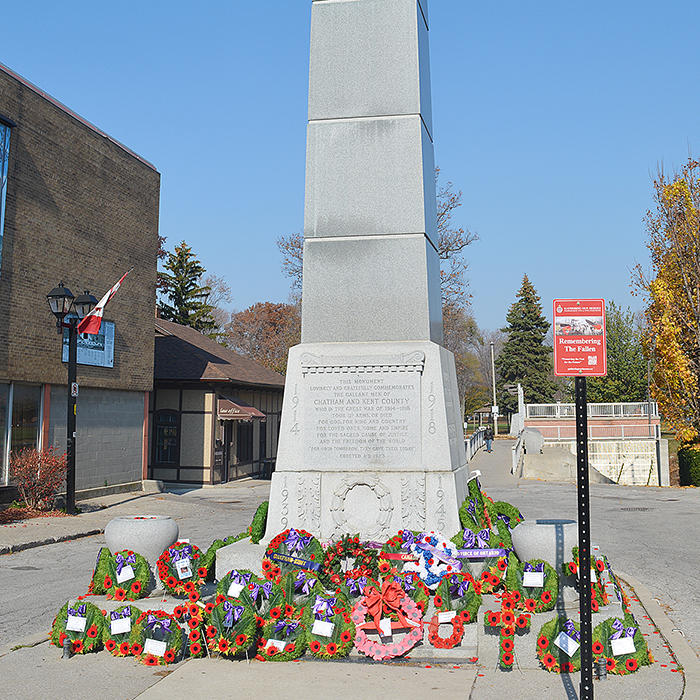 The call is out for volunteers to stand vigil around the Chatham cenotaph.
For the third straight year, the Christ Church community is organizing the vigil in advance of the Nov. 11 ceremony at the site on King Street.
It began in 2017 as a commemoration to mark the 100th anniversary of the end of the First World War.
Christ Church is calling on service groups, churches, businesses and individuals to stand vigil from 7 a.m. to 10 p.m. daily from Nov. 7 through to 11 a.m. on Nov. 11.
Judy Stefanczyk, a warden of Christ Church, said the plan was initially to hold the vigil in 2017.
"We had to keep it going, just from the community support we had, and the commitment. Before we started posting anything, we had calls from people inquiring about it," she said.
Individuals or teams of people can sign up for two-hour shifts. Stefanczyk said it's easier if people sign up in numbers, but individuals can certainly be slotted in.
"The thing about having a team, is if it's a cold shift, if there are six or eight, you can swap off every 15 minutes or so," she said.
Standing still on a blustery November day or evening, with the cold creeping up your legs from the chilled cement on which you are standing, can take its toll.
Christ Church at 80 Wellington St. will be open during the vigil to serve as a warming location, with hot drinks and food available to those standing vigil. Revera Retirement Living's Village on the Ridge Retirement Residence and Blenheim Community Village are again supporting this event, providing food and drinks.
This year, there will be no overnight shifts, something that took place in the past.
Stefanczyk said the change is to ensure the safety of participants.
"It's for security issues. If there is a big incident on the other side of town during an overnight shift, the police won't be close by if something were to happen," Stefanczyk said. "We just looked at it from a security standpoint."
The overnight shifts were also the coldest.
Stefanczyk said several groups and individuals have already signed up for some of the shifts. Members of Br. 642 Canadian Legion, who co-sponsor the vigil, will take the first shift at 7 a.m. Nov. 7, and will be followed by members of the Masonic Lodge, she said.
She hopes to see local cadets stand the final watch prior to the Nov. 11 ceremony, so the transition would be a seamless one.
Organizers would love to see the mayor come out to support the event, but have not heard from him. Darrin Canniff and his wife are currently out of the country celebrating their 25th wedding anniversary.
For more information, or to register for a shift, contact the Christ Church office at 519-352-1640 or e-mail churchoffice@christchurchchatham.ca.