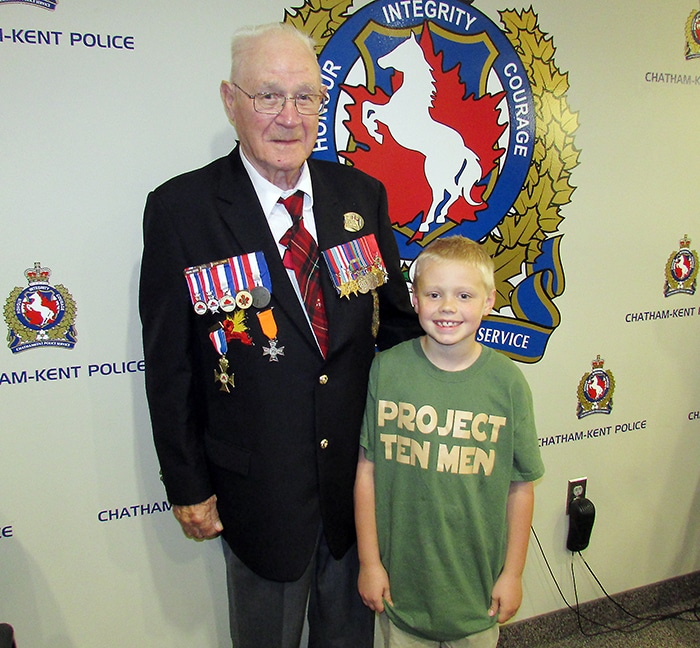 With the help of a 10-year-old boy, The Essex & Kent Scottish Regiment Association is sending Sgt. Roy Hare, 94, to Belgium this week.
Hare, a Second World War veteran, is off to the 75th anniversary celebrations of the liberation of Ekeren, Belgium, thanks in no small part to Aiden Dick, 10.
The Belle River boy, whose father spent 18 years involved with the Essex & Kent, ran a lemonade stand and set up a GoFundMe page (with the help of his father, Greg, and stepmother, Tamara), raising about $2,000 and counting.
Hare, who lives in Sarnia, joined the Essex Scottish in 1943 at the age of 18 and fought through France, Holland and Belgium.
According to Essex & Kent officials, earlier this year, Koen Palinckx, mayor of Ekeren, reached out to the Essex & Kent Regiment, as the organization's predecessor regiment, the Essex Scottish, was one of the integral regiments of the 6,000-strong Second Canadian Infantry Division that had liberated Antwerp and much of Belgium.
In honour of their liberation by the Essex Scottish 75 years ago, the citizens of Ekeren have planned a large event. Their main city square has been renamed Canadians Place and a standalone monument has been erected dedicated to The Essex Scottish.
Because it is an invite from a community and not an event put on by Veterans Affairs, regiment officials said the Department of National Defence does not fully fund the trip. The Essex & Kent had to make up the rest.
As a result, the regiment association reached out to service clubs, legions and other elements in the community to raise funds to help send Hare and others to the event.
Aiden said once he found out about the effort to get Hare overseas, he wanted to help.
"I overheard my dad talking about how they needed funds to send a local World War Two veteran back to Europe. I thought it would be a good idea to help out," he said.
Hare and about half a dozen other representatives were to leave Oct. 1, and tour several Commonwealth War Cemeteries and battle sites prior to the Ekeren festivities Oct. 4. They are to return to Canada Oct. 8.
Hare is no stranger to returning to the site of Second World War battles, as he was at the 75th anniversary of D-Day in Normandy this past June, and the 75th anniversary of the Raid on Dieppe in 2017. Hare said he's also been to Holland at least half a dozen times over the years and hopes to return to Europe again next year.
Hare said his first time through Holland and Belgium during the war was grim, as city after city was bombed out.
His task with the anti-tank team on the light 6-pounder gun was to blow tracks off the German tanks and knock out gun emplacements.
The veteran recalled one battle where the Germans had a large gun on a heavy lift. It would literally pop up, fire, and drop back down. Hare said his team was ready, took aim and scored a direct hit when the gun popped back up, only to discover the Germans had sent up a dummy gun made out of wood that time.
Hare said he somehow managed to get through the harrowing experiences of war, including being captured and nearly executed, with little more than a shrug of his shoulders.
"It didn't seem to bother me. I was one of those guys who rolled with the punches," he said. "I just persevered. I was there to do a job, and that was it. To this day, I don't understand why I wasn't nervous."
That included a time where several German soldiers were debating executing Hare and other POWs. It didn't happen and Hare instead spent 57 days as a prisoner.
After the Second World War, Hare said he enjoyed a career as a pipefitter.
Lt. Col. Joe Ouellette of the Essex & Kent, said it may have been the Essex Regiment that liberated places such as Ekeren, but members of the Kent Regiment played a large role as well.
Ouellette said when both regiments landed in England, one, the Kent, was assigned domestic security, while the other, the Essex, was given infantry duties. But the Raid on Dieppe in August of 1942 changed everything.
"After Dieppe, the Essex regiment had to be replenished. They had to replace its officer and NCO (non-commissioned officer) corps," Ouellette said. "Kent troops stepped up and transferred over. There was a significant Chatham-Kent presence."
The raid saw more than 3,600 troops killed or captured.
In terms of the Ekeren visit this week, should the regiment manage to exceed Hare and his daughter Patricia's expenses (she is attending as his caregiver), any excess funds raised will be used to send a veteran representative, possibly Hare, to the anticipated, but not confirmed 75th commemoration of the liberation of the northern town of Groningen in April 2020.
Comments
comments