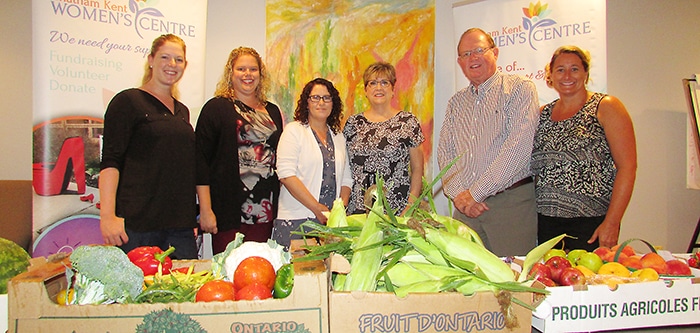 Royal LePage/Peifer Realty personnel said they saw a need at the Chatham-Kent Women's Centre, and acted quickly to fill it.
Kristen Nead and Amber Pinsonneault said they toured the women's centre on International Women's Day, and noticed something missing.
"We saw non-perishables but nothing fresh," Nead said of the food on hand. "Kids need fresh food for lunches for school."
The duo came up with the idea of donating internally at Peifer Realty, and received strong support.
"We just started collecting funds a few weeks ago," Nead said.
Already, they have raised enough money from coworkers to send fresh fruit and vegetables to the centre from now until November and from April to November of 2020.
The collected total dollar donation is $1,190, but Sarah Graham of Sarah's Farm Market, where the Royal LePage team went to get fresh local fruit and veggies, pledged to double the effort.
"I loved the idea. It's easy to say yes to such a thing," Graham said. "So we're matching the contribution. That way, we can contribute too."
Going forward, anyone who is interested in contributing to the program can contact the Royal LePage office at 519-354-5470.
Comments
comments