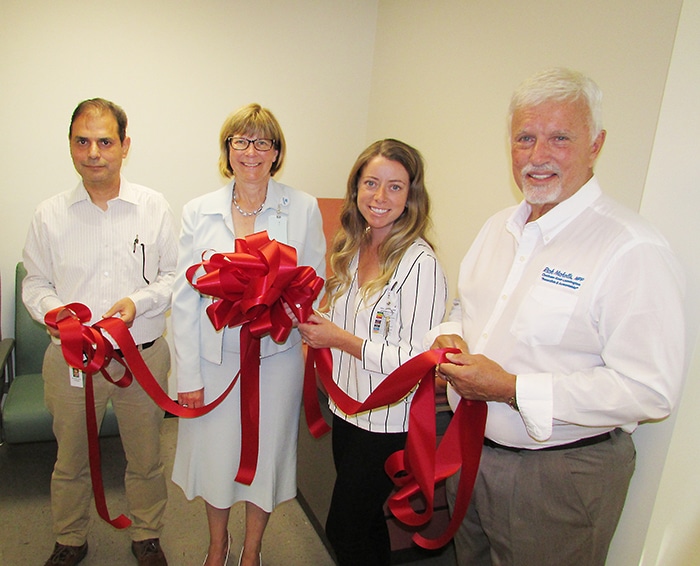 To help fill the gaps in treatment for addiction, the Chatham-Kent Health Alliance (CKHA) has opened its Rapid Access to Addiction Medicine (RAAM) clinic.
Officials celebrated with a ribbon cutting Aug. 13, but the clinic has been open for a little over a month, and as of the ribbon cutting had already worked with 16 patients.
RAAM personnel anticipate seeing upwards of 100 patients a year.
Lori Marshall, president and CEO of the CKHA, said the RAAM clinic was badly needed here.
"We identified gaps in care and addiction services. We needed to pursue these kinds of services in the community," she said. "It takes us along the path of harm reduction."
Marshall said opioid poisoning/overdose emergency room visits across Ontario are up 73 per cent.
In Chatham-Kent, ER visits are up seven per cent, she added, just for substance abuse.
Marshall said the problem is systemic, as residents of Chatham-Kent are prescribed and dispensed opioids at 1.5 times the provincial average.
"Sixteen thousand residents (of C-K) were dispensed opioids in the last year," Marshall said.
With those numbers in mind, the alliance sought to offer the RAAM to give those with addictions rapid access to help.
"People can just walk in," Marshall said of the clinic, located at 47 Emma St. "You don't need a referral."
She added doctor referrals would also be accepted.
Anyone aged 16 and older can simply walk in. The hours are 2 p.m. to 4 p.m. Monday, Wednesday and Friday.
The CKHA RAAM clinic joins 55 others around the province, according to Dr. Rizwan Raffiq, director of mental health and addictions programs for the CKHA.
He said the clinic is badly needed here.
"These patients are very deprived of resources and are ending up shunned," he said. "The RAAM provides evidence-based treatment quickly. We catch them when we can help them."
In terms of the high percentages of opioid dispensing and use in C-K, Raffiq said the effort to change is a work in progress.
"We are working to educate our doctors and the public to reduce the use of opioid prescriptions," he said.
The RAAM is staffed by addiction therapists, registered nurses, and Raffiq.
He said the clinic should help alleviate some pressure on the ERs as well, as 27 per cent of substance-abuse patients who go through the ER now are back within 30 days.
For more information on the RAAM and its programs, call 519-352-6400 ext. 6740.