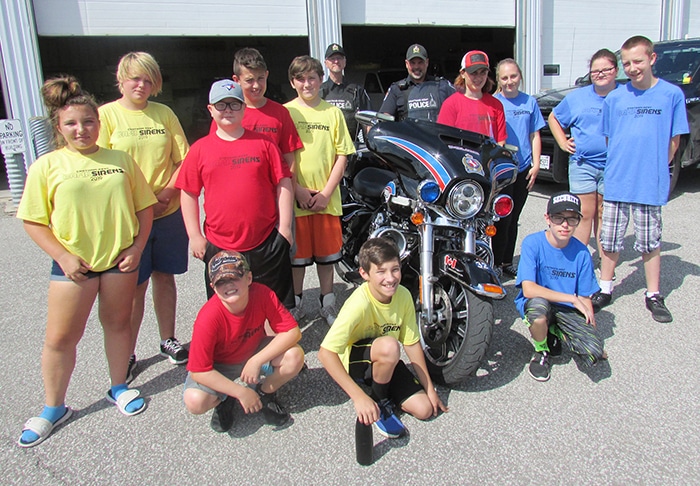 Teens in Chatham-Kent got to experience first hand a day in the life of first responders at Camp Sirens thanks to teamwork from police, fire and ambulance personnel.
For students 12 to 13 years of age, Camp Sirens is a week-long camp that introduces campers interested in a career in emergency services to the training and activities of workers in the trade.
According to Const. Renee Cowell with the Chatham-Kent Police Service, the event started out as Cop Camp around 2013 to introduce young people to the inner workings of the police service, get them comfortable with police and their role in the community, and get them thinking about a career as a first responder.
Working closely in Chatham-Kent with ambulance and fire personnel, Cowell said it made sense to invite those first responders to the event, changing the name to Camp Sirens.
"It's important to let the campers know that first responders work together, going to the same calls and working together to ensure the safety and protection of our community," Cowell said. "We like to capture their interest at this age, before they get to high school. They get a sneak peak at what our professionals do on a daily basis and get them thinking about their future careers."
The week-long event included learning search and rescue techniques, demonstrations of the CKPS canine unit team – Const. Rick Bertok and Ary – the traffic unit, CIRT emergency response team, drug unit and identification team.
Amy Larsen, a paramedic for 22 years and member of the CKEMS team, said she got involved with Camp Siren last year and helps with the EMS First Aid/CPR demo and tour of the Wallaceburg dispatch centre for ambulance calls. Each camper left with a fully stocked first aid bag.
"The kids have responded really well to the camp. They were saying they didn't want to leave," Larsen noted. "There is so much stuff they are doing this week. How many opportunities do you have to see this? Hopefully, these kids will be interested in this as a career for their future."
Chatham-Kent Fire and Emergency Service firefighter Whitney Burke, who is a part of Camp Sirens, said when she was approached by Cowell about joining in the camp, she jumped at the chance to be involved and introduce kids to a possible career as a firefighter, either full-time or as a part-time volunteer.
Burke said campers learned about front line fire suppression skills, were geared up including trying on SCBA packs and masks, and had the opportunity to crawl through an obstacle course in a dark room with furniture to simulate what it like for firefighters in real life.
"We also taught them how to use a fire extinguisher, which is a practical skill they can use at home or if they get a job babysitting. It's a useful skill to have," Burke noted.
The campers were also told the difference between full-time firefighters at stations staffed 24/7 and stations that have volunteer firefighters on call for fire emergencies in their station area.
She also talked to campers about all the roles firefighters have besides fighting fires such as public education, community safety and fire prevention, as well as fire code enforcement.
At the end of the week, campers had a graduation ceremony at Chatham-Kent council chambers with family and free barbecue lunch.
Burke said an important aspect of the camp is that the kids learn what each service does in the community, and how their roles often overlap as they attend emergency calls together.
Prevention, protection and safety is the role of all first responders, she noted.
"We are all preaching the same message and that is to work as a team to make Chatham-Kent the safest community it can be. With the kids, we see that as well, and by the end of the week, they are all working together," Burke said.