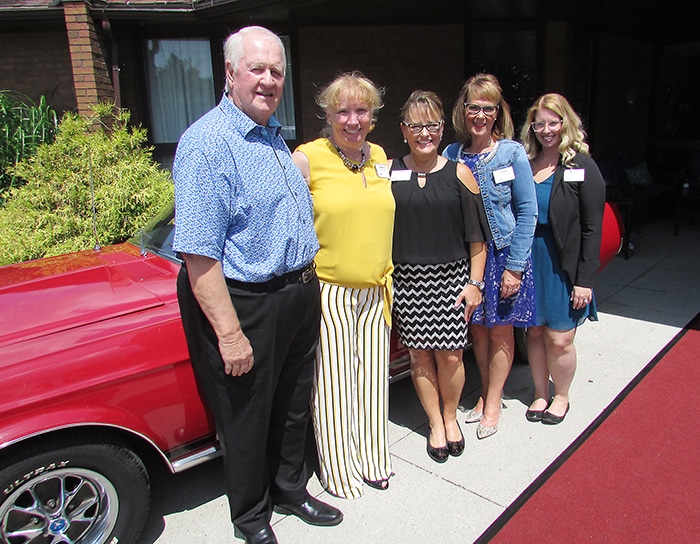 Staff, family and friends gathered to celebrate the 40th anniversary of Meadow Park Long-Term Care Home on July 24, and to look to the future.
On hand for the celerations was former owner Don Stevens. He built the home in 1979.
Stevens said the Ministry of Health and Long-Term Care originally put out a request for proposal for a 60-bed facility in Chatham, and he was fortunate to land the contract.
"When we opened, there was unbelievable demand," he said.
Stevens sold the facility a decade later to Jarlette Health Services, who own it to this day. He still sits on the Jarlette Health Services Advisory Committee.
At the celebrations, Stevens said he was happy to run into so many familiar faces.
"I met so many original staff here today. It was quite a reunion," he said.
Meadow Park opened in 1979 with the 60 beds down two wings. Built on three acres of land at the corner of Sandys Street and Poplar Avenue, Meadow Park expanded to accommodate 99 beds in the early 1980s.
Since its inception in 1979, Meadow Park has served more than 1,500 senior residents and has supported countless family members.
Julie King, chief operating officer at Meadow Park, said the demand for long-term care beds remains today.
"We are patiently waiting approval from the province to build a 128-bed facility," she said. "We will move forward once redevelopment plans are approved by the province."
Stevens said the new facility would better be able to serve the people of Chatham-Kent.
"This is a beautiful building still," he said. "But new standards mean bigger and better for the residents."
King agreed.
"This is a beautiful building, but the infrastructure is outdated to best meet the needs of the residents," she said.
Lydia Swant, resident and family services co-ordinator at Meadow Park, said celebrating four decades of operation is special.
"It is incredibly rewarding to be part of this remarkable milestone," she said in a media release. "It is very meaningful and special to have some of our original staff still extending a tradition of excellence in care within Meadow Park, and we truly believe it is a testament to the Home's unwavering commitment to making an outstanding difference in the lives of others when we witness connections being made between the past and the present."
Swant added Meadow Park has become a teaching environment of sorts as well, as students have had the opportunity to learn and gain hands-on experience.
Meadow Park Chatham also worked to become a Best Practice Spotlight Organization (BPSO) with the Registered Nurses' Association of Ontario. The three-year program, which upon successful completion, will result in an official designation, has challenged Meadow Park Chatham to evaluate current practices and to make changes to ensure the highest degree of safe and efficient care is being provided in every instance, every day, Swant said.