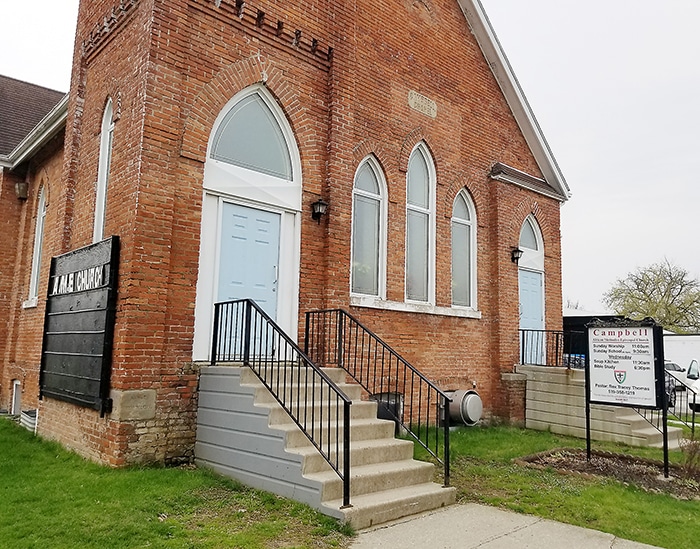 The parishioners at Campbell AME Church in Chatham need your appetite.
They are hosting a fundraising dinner at the King Street East church on June 1 in an effort to pay for roof repairs.
Rev. Tracey Thomas said the roof on the parsonage, which was built in 1996, suffered damage in the winter.
"During the winter, we discovered we had a leak in the parsonage roof. We have to repair some of the shingles on the outside," she said.
The parsonage is a housing space. In the past, it was for the pastor that lived in the area. Now, with Thomas living mostly in Windsor, it is still utilized, but not as frequently.
"It's still used. In our denomination, I'm an itinerant elder and I live down here in Windsor," she said. "I do some office work in Chatham. I do stay there when the weather is bad and when I'm there on the weekend sometimes."
Campbell AME Church also suffered from heating problems in the fall. Thomas said the furnace quit in November and had to be replaced. That has left the church light on funds for the roof repair.
"With smaller congregations, we don't always have that money on hand or easily accessible," she said. "We're looking to do the dinner to raise some funds."
Thomas said the congregation numbers fewer than 50 for the African Methodist Episcopal Church. But community and volunteer support remains strong.
"Without the volunteers and community support, we would not be able to continue to do what we're called to do," she said.
That includes running a weekly soup kitchen.
Thomas credited the people of Chatham-Kent for their giving spirit.
"Chatham as a community is so unique, the way the community comes together and supports the church is special," she said. "People come out and take part in everything. It's a great blessing."
Loraine Young, a steward with Campbell AME, said June 1's dinner is roast beef with all the trimmings, including dessert. Tickets are $20 for adults and $10 for children under 12. Takeout will be available.
Dinner runs from 5 p.m. to 6:30 p.m. Enter via the Prince Street entrance.
For advanced tickets, contact Young at 519-352-0134, or call the church at 519-358-1219 and leave a message.
Comments
comments