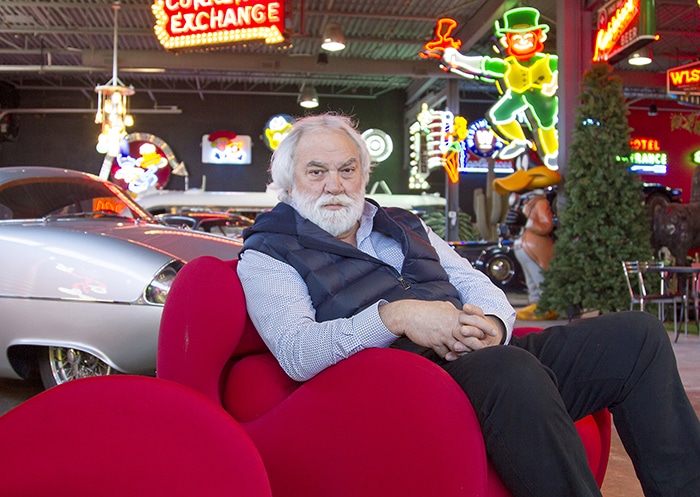 With RM/Sotheby's birthday celebrations less than two months away, Rob Myers is still preaching chaos.
Myers, founder and chairman of RM/Sotheby's, is the main force behind the big event, slated for June 21-22 in Chatham-Kent as a celebration of 40 years for the auto restoration business and auction house that he started.
To help celebrate, Myers said he's working to have members of the Porsche, Ferrari and Maserati clubs of the region attend. These clubs will convene at RM/Sotheby's on the Saturday.
Myers chaos will begin on the Friday night. He said he's going to soon announce who will be the "high-profile" parade marshal for the RM/Sotheby's parade of unique vehicles and oddball attractions. That includes a pair of mechanical elephants Myers has lined up from the 1940 Kansas City World's Fair, and more.
"It will be as silly a parade as you'll ever see," Myers said.
When you add such things as a Nudie Car – a rhinestone-studded vehicle designed by Nudie Cohn – or a 1950s pickup with a "great, big chicken in the back," the Flintstone's car, the Batmobile and the General Lee (from the TV show Dukes of Hazzard), as well as other one-of-a-kind vehicles, it can get silly.
The parade will flow through the downtown.
The annual RetroFest Cruise follows the parade. It will begin at an as-yet-undetermined location and will wind up in the downtown, as members of the Kent Historic Auto Club and out-of-town classic car buffs showcase their vintage vehicles.
Myers would love to see thousands of classic cars in Chatham on the Friday night and Saturday.
Tickets for Friday night's concert in Tecumseh Park by the Sam Roberts Band are now on sale. They can be purchased online at cktickets.com, or in person at the box office at the Chatham Capitol theatre, which is open Monday to Friday from 9 a.m. to 5 p.m.
Proceeds from the show go to the Foundation of the Chatham-Kent Health Alliance (CKHA).
Tickets for Big Sugar's Saturday night concert at the Capitol Theatre can also be purchased in the same manner as listed above.
Proceeds from that show will go to the Chatham-Kent Hospice.
With all the added traffic and vehicles, RM/Sotheby's personnel have obtained the use of the parking lot in front of the former Target store on Grand Avenue West. Shuttle buses will take people back and forth to the downtown.
Shuttle buses will also be taking people between the downtown and RM/Sotheby's just south of Highway 401.
On Saturday afternoon, a showcase of unique collector items will take place in the museum area of RM/Sotheby's. It's a ticketed event and proceeds will go towards the Butterfly Build Fund for the Children's Treatment Centre of Chatham-Kent.
There are other events taking place out at RM/Sotheby's on Classic Car Drive just off Communications Road on the celebratory weekend. The museum area and restoration shop will be open for viewing, and 519 Events & Promotions will run Art at RM on the Saturday as well.
It will showcase a selection of local artisans, dozens of vendors, and a graffiti competition.
Myers said shipping containers will be set up for painting, and there will be prizes for the best graffiti.
There will also be hot air balloon rides, a barbecue and entertainment.
Myers said he has received some negative feedback about choosing June 21-22 as the time for his 40th anniversary celebrations.
RetroFest in Chatham and the Blenheim Classics Auto Show flipped weekends, as the Blenheim show was to take place on June 22. It now runs May 25.
But the 2019 Pain Court Tractor Pull and Thamesville Threshing Festival are slated for the same weekend.
The Tractor Pull takes place Friday night, while the Threshing Fest runs Friday and Saturday.
Myers hopes to help drive traffic to both events.
"Let's make it a great big Chatham-Kent party. I want to get shuttles going and show visitors what a threshing festival is," he said.
Myers said he chose June 21-22 with his employees in mind. He said they are between auctions at that time, and are in preparations for the Monterrey, Calif. Automobile auction, where RM/Sotheby's sold a 1962 Ferrari 250 GTO last year for more than $48 million, and conducted more than $158 million in sales.
He added he has had some clients that are incredibly loyal and would like to reward them.
"I'm 40 years in business and I've had some of the same clients all these years," he said. "Some have never been to Chatham-Kent. Why not invite some of those VIPs here? We'll host them and show them the Threshing Festival, the Tractor Pull and RetroFest."
He said he's received some great help from local supporters.
"It's about celebrating 40 years, but it's about having fun; it's about helping charities," Myers said. "Our plans are still evolving. We hope to augment fun everywhere and get parents involved with their kids."
With everything going on downtown or out at RM, it could get confusing. That's why there will be an app for people to easily check on event schedules and locations.