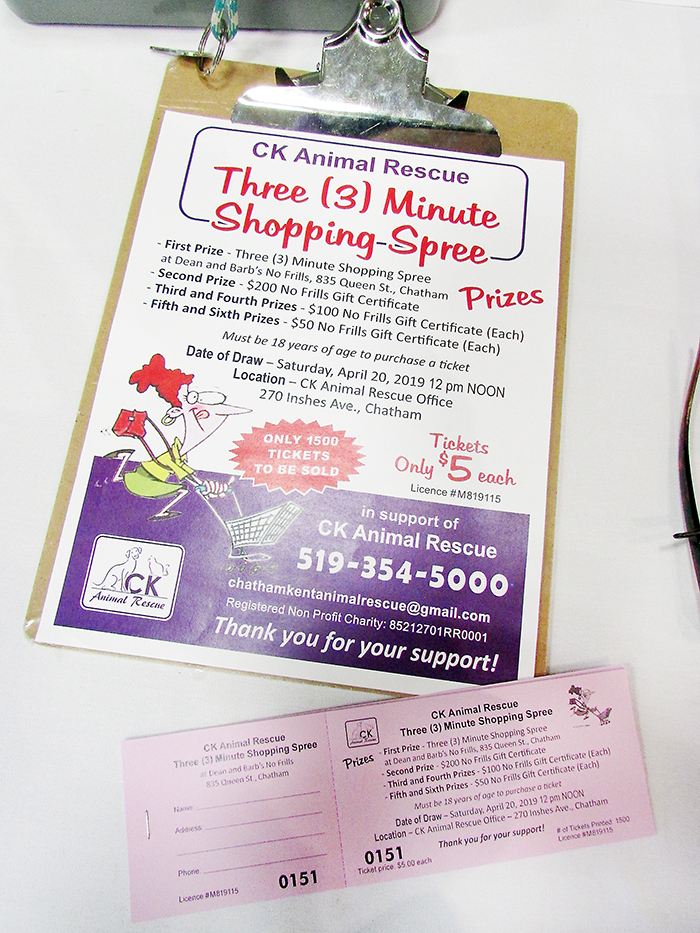 How many grocery items can you get into a cart in three minutes? You'll have a chance to find out thanks to a fundraiser being held by Chatham Kent Animal Rescue (CKAR).
In partnership with sponsor Dean and Barb's No Frills on Queen Street in Chatham, CKAR is selling raffle tickets to win a Three Minute Shopping Spree at the store, with the draw to be held April 20 at noon.
According to CKAR volunteers, only 1,500 tickets will be sold, with the shopping spree as first prize, a $200 No Frills gift certificate as second prize, a $100 gift certificate each for third and fourth prize, and a $50 gift certificate each for fifth and sixth prize.
The funds raised will support the animal rescue, which fosters and adopts out surrendered pets and animals from kill shelters in Canada and the U.S. destined for euthanasia.
The organization also runs the Purple Leash Program that fosters animals temporarily for seniors in the hospital and families fleeing from domestic violence.
CKAR is a registered non-profit charity run by volunteers and has been operating in Chatham since 2010.
Tickets for the draw are $5 each and are available by calling CKAR at 519-354-5000 or visiting The Chatham Voice newspaper office, 71 Sass Road, Unit 4 in Chatham. Volunteers are also selling tickets at the No Frills on Queen Street April 14-18, 11 a.m. to 4 p.m.