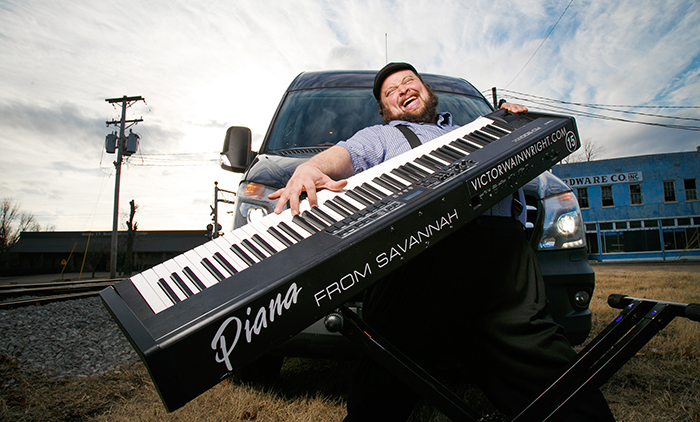 Grammy nominee Victor Wainwright will play in Chatham this weekend.
Wainwright and his band The Train, are set to play the Kent-Belgian-Dutch-Canadian Club on Saturday night.
Nominated for a 2019 Grammy for Best Contemporary Blues Album, the "Piana from Savannah," is playing at the invitation of the Canada South Blues Society.
In addition to his Grammy nomination, Wainwright took home the Pinetop Perkins Piano Player Award at the 2018 Blues Music Awards in Memphis last May.
The blues musician's virtual non-stop touring schedule includes a headlining slot at the famed three-day Big Blues Bender in Las Vegas, where he is confirmed to perform again this September.
The Chatham-Kent Chapter of the Canada South Blues Society has been hosting live music since it was founded seven years ago.
"We've been bringing world class blues and roots music to the community since our first show," said Blues Society President Bob Christmas in a media release. "We had recent Grammy nominee Danielle Nicole at the KBD last October and now we've got Victor Wainwright. In the blues world, it doesn't get any better than that."
The organization is entirely volunteer driven and operated and is a registered non-profit, working under the umbrella of the Canada South Blues Society in Windsor.
The two groups are closely aligned and usually share artists with shows a night apart in Windsor and Chatham, alternating the Friday and Saturday weekend nights.
"We want to support live music and blues music," Christmas said, "and the acts we bring in aren't just the best blues acts in the world, they're some of the best in the world period. The accolades for Victor Wainwright just keep coming. He's one of the most dynamic performers anywhere today in the world of music."
Start time for Wainwright's show is 8 p.m. Tickets are $25 for Blues Society Members and $30 for non-members. To purchase, visit Hip Entertainment, the KBDC Club, Kakoon spa or call Bob Christmas 519-676-9150.
Comments
comments