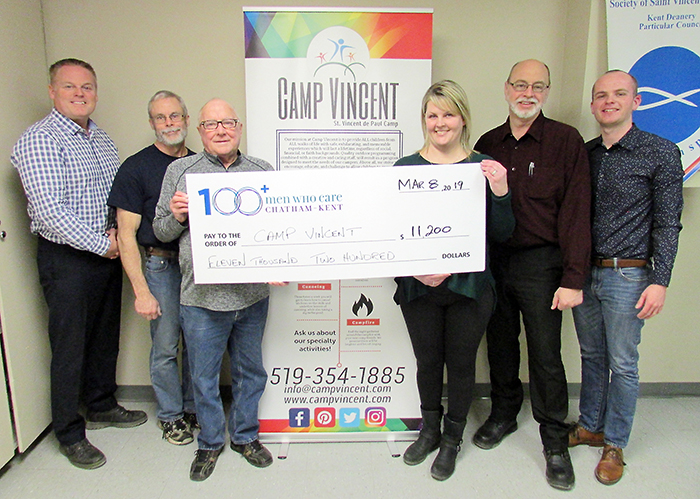 Camp Vincent, a children's summer camp near Bothwell that exists on donations, is the recipient of the third donation made by 100 Men Who Care – Chatham-Kent.
Members of the new club that started up last July were at the St. Vincent de Paul store in Chatham recently to present Camp Vincent administrator Lisa Diesbourg and board member Jim Earley with a cheque for $11,200.
The money will be used to help families send kids to camp who normally wouldn't be able to afford the experience.
Chris Appleton, one of the 100 Men Who Care members to make the cheque presentation, said they were very happy to be able to help Camp Vincent.
"We started up last July and this is our third cheque presentation," Appleton explained. "We meet quarterly and members can nominate a charity of their choice at the meeting. Then we pick three of the nominations out of a hat basically, and the member has three to five minutes to talk about their charity. There's no PowerPoint; it comes straight from the heart."
Appleton said once the three presenters have spoken, the members vote and the charity with the most votes gets the $100 collected from each member at that meeting. At present, he said there are approximately 125 men who come out to the meeting to participate and nominate a charity. The money stays within the community.
Big Brothers/Big Sisters and the Shepherd's Way Inn were the first two charities picked.
Appleton said new members are always welcome. The next meeting is April 25 from 6 p.m. to 7 p.m. at Links of Kent Golf Course on Indian Creek Road in Chatham.
For more information about the group or to register, go to 100menCK.com.
Comments
comments