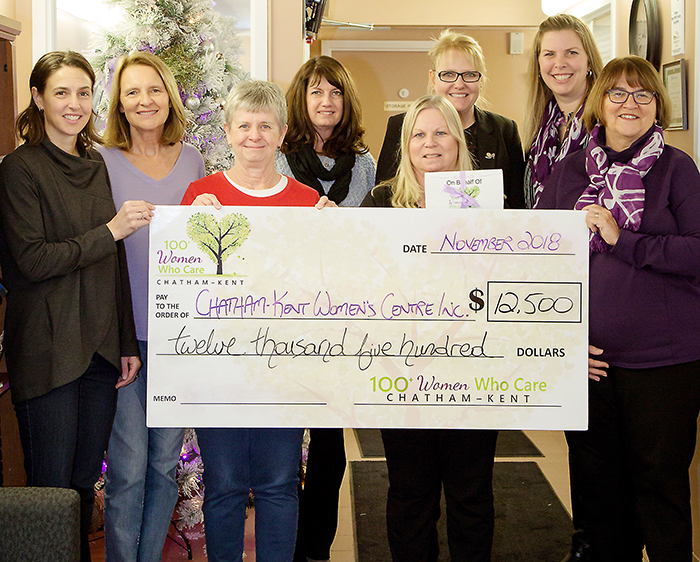 The Chatham-Kent Chapter of 100 Women Who Care presented $12,500 to the Chatham-Kent Women's Centre.
This donation will help support the Women Centre's Emergency Shelter Program, Nancy's Place and Child Witness Program.
"This is such a wonderful donation and opportunity to provide support to the many programs and services to assist abused women and children in Chatham-Kent. Each year the Chatham-Kent Women's Centre assists over 1,000 women and children from our community who seek emergency shelter. The support we received is not only a wonderful monetary gift, but truly shows our clients the support from our community and the desire to end violence and abuse against women and children," Karen Hunter, Executive Director of the Women's Centre, said in a media release.
Since August 2016, 100+ Women Who Care Chatham-Kent has donated a total of $100,000 across 10 local charities. These have included: Chatham-Kent Children's Services; Alzheimer's Society of Chatham-Kent; Chatham-Kent Children's Safety Village; Adult Language and Learning; Outreach for Hunger; Shepherd's Way Inn; Scouts Canada Camp Cataraqui; Chatham Hope Haven; Chatham Goodfellows and most recently the Chatham-Kent Women's Centre.
Membership is ongoing and women who care about Chatham-Kent, and want to make an immediate, direct and positive effect in their home community, are encouraged to join.
100+ Women Who Care CK meet four times a year for one hour and at each meeting local charities in financial need are presented by members; one is selected by a majority vote to receive the collective donation.
Each member of 100+ Women Who Care commits to making a $100 contribution to the selected charity, which results in a large impact donation. This completes a circle of giving locally.
The next meeting will be held on Feb. 27 at the Retro Suites Derby Event Centre at 6 p.m.
For more information, as well as registration and nomination forms, please see our website www.100WomenWhoCareChathamKent.com or contact us at 100WomenWhoCare.CK@gmail.com.