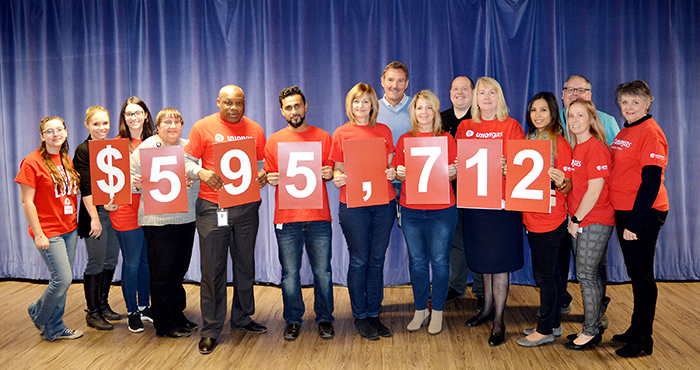 Living true to the theme "We Give Today, To Improve Tomorrow," Union Gas employees and retirees showed their continuing support for United Way of Chatham-Kent by raising $595,712 through the company's 2018 campaign.
"To say that I am proud of the employees at Union Gas is an understatement. The devotion of all Union Gas employees during the 2018 campaign was inspiring as they helped to improve the lives of individuals and families in the community where we work and live," Steve Baker, president, Union Gas, said in a media release. "Our culture of giving ensures United Way can continue to make critical investments that help people every single day in Chatham-Kent."
The company's United Way theme reflects the heart of the campaign, but it also captures employees' spirit of giving, Union Gas officials said.
Numerous fundraising events led by employees were held throughout the year to raise money. Union Gas matches each individual donation dollar for dollar, and those matching dollars will go to each local United Way.
"United Way is honoured to work with Union Gas, to improve lives and build community across Chatham-Kent", said Steve Pratt, CEO, United Way of Chatham-Kent. "This is a new era for United Way and our work is evolving to better meet the needs of our community. Thanks to Union Gas' remarkable generosity, and that of their employees, we are creating opportunities for everyone in new and exciting ways that will help create long-term solutions in tackling our most urgent human and social needs. As a community we are all connected and interdependent; we all win when a child succeeds in school, when families are financially stable, and when people are healthy. This tremendous amount of support from the team at Union Gas means that even more people will be able to receive help when they need it most – and for that, we are most humbled and truly grateful."
United Way of Chatham-Kent works to maximize volunteer, financial, program and agency resources to respond to the increasingly complex issues and needs that exist and are emerging in Chatham-Kent. Together, they are a community of people with a common goal of caring. For more information, visituwock.ca or on Twitter: t@UnitedWayCK and Facebook: @UnitedWayofChathamKent.