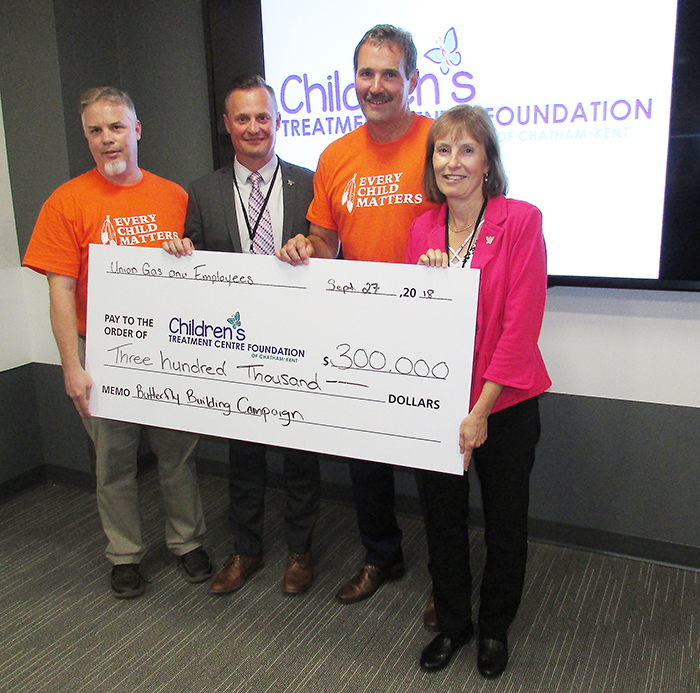 Union Gas injected $300,000 into the Butterfly Build Campaign for the Children's Treatment Centre of Chatham-Kent (CTCCK) recently.
The centre is looking to raise $6 million locally to go with $22.5 million in provincial funding to build a new facility on McNaughton Avenue West in Chatham. To date, thanks to the boost from Union Gas, they've raised about $4 million, Foundation of the CTCCK executive director Mike Genge said.
While Union Gas and its employees direct funds to the CTCCK, their giving goes much further.
Mike Grail, chair of the foundation board, said the donation of "sweat equity" means a great deal.
"I've worked with hundreds of Union Gas employees at various events and fundraisers. It's not just financial contributions from the people of this company," he said. "This organization truly believes in giving. It comes from the roots on up. The culture is probably unparalleled anywhere."
Steve Baker, president of Union Gas, is a former member of CTCCK foundation's board. Kevin Allman, an employee at Union Gas, is a current board member.
Allman has seen firsthand the benefits of the treatment centre. His adopted daughter Hayley, 13, received crucial therapy at the facility.
Allman said Hayley developed cerebral palsy at birth. The first place the family visited when they got Hayley home to Chatham was the treatment centre.
"They taught us so many things in that first month," he said, adding that included how to feed her, how to do physiotherapy and more. "When she first learned to walk it was at the CTCCK. They helped us so much."
Allman said the greatest gift, however, was the encouragement and celebration for Hayley's perseverance and accomplishments.
Baker said he is well aware of how integral the centre is for the community, and to the families of Union Gas employees. Working with the centre makes sense for the company.
"We live here. We work here. This is our community. We've got a desire to make it stronger," he said. "The future lies in our children."
"We've got caring employees at this company and we all believe how important the quality of life for kids is in this community," he added. "The CTCCK provides so many services. It really is a world-class facility."
Grail said Baker has maintained an interest in the centre, even when his work led him to Houston, Texas for a time.
"Steve's efforts to help the foundation are truly inspiring. Even when he moved to Houston, he still wanted to be kept up to date on matters," he said.
Baker said he's all too aware of the need for the centre to expand.
"It's driven by a really strong caseload. And they are using literally every inch of the current centre," he said. "You can quickly see how much a new centre is needed."
The $6 million in locally raised funds will go towards equipment for the centre and to help sustain operations, Baker said.