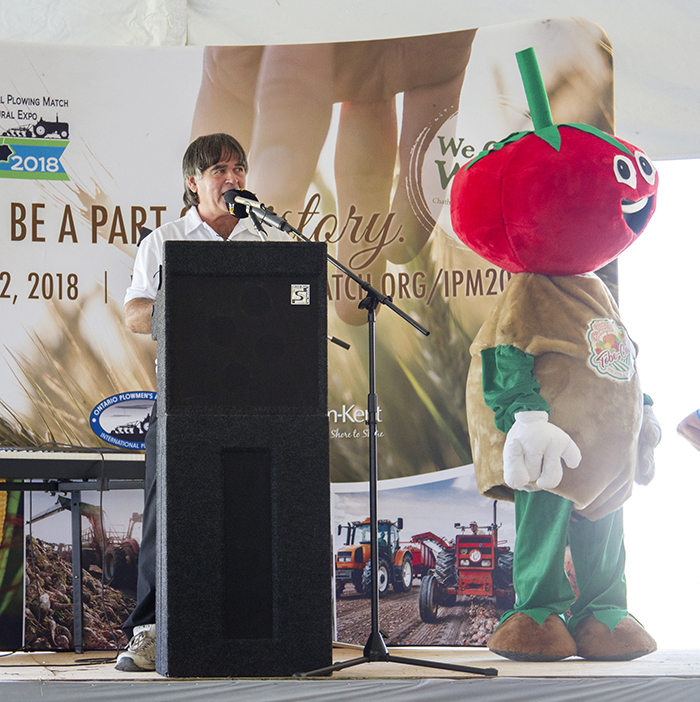 The 2018 International Plowing Match is a world-class event that takes thousands of people working in lockstep to pull off.
That means thousands of people putting in thousands of hours to turn the 858 acres near Pain Court into a spectacular showcase of education and entertainment that attracts both rural and urban visitors.
At the IPM Media Day recently, event co-chair Leon Leclair said the media and some people in the community talk about how rural and urban people and politics don't mesh well. He pointed out that the IPM organizing committee, sponsors and volunteers blow that theory right out of the water.
The co-chairs – Leclair and Chatham Coun. Darrin Canniff – are the first good example. A rural and urban match up that brings both their strengths together to work as a team. And the list goes on.
As IPM committee member Jean-Marie Laprise said the agri-food business includes bankers and seed producers, engineers and agronomists, dairy farmers and accountants – each has a different expertise that makes the industry the success that it is in Chatham-Kent. It is a $3 billion industry locally.
Respecting that expertise and working with each other is what makes a successful partnership – like the Ontario Plowmen's Association and the Municipality of Chatham-Kent. It starts at the top and works right down to the farm girl and city girl welcoming people at the IPM main gate – each has something to offer.
People in Chatham-Kent still grumble about amalgamation after 20 years and a perceived bias towards Chatham on our municipal council. Chatham has six of the 17 council seats available, so one could argue Chatham is in the minority.
Regardless, when it counts, rural and urban people work together to make sure Chatham-Kent as a whole is successful, whether it be special events, economic opportunities or sporting endeavours.
Give Chatham-Kent residents a worthy cause to get behind and they will always step up to the plate – rural or urban.