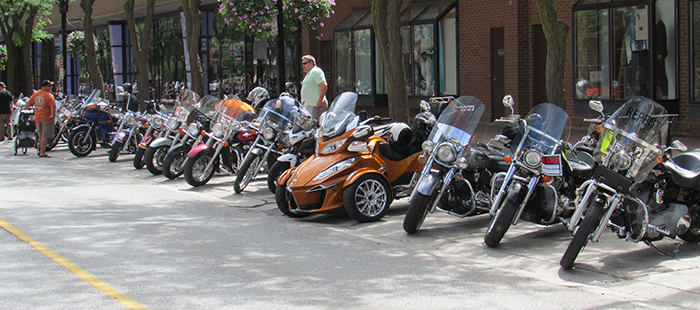 The chrome is coming, along with the rumble of big bore engines.
The 11th annual Bike Fest, a fundraiser for Big Brothers, Big Sisters of Chatham-Kent, takes place on the weekend in the heart of Chatham.
The key element for the fundraising effort is the raffling off of a 2018 Heritage Softail Classic Harley-Davidson motorcycle. The bike retails for more than $23,000. There are also five $100 cash draws.
The draws take place Saturday at 7 p.m. in Tecumseh Park. Tickets are $20 each or two for $30, and will be sold all day in the park.
There will also be a 50/50 draw this year, and Nan Stuckey, executive director of Big Brothers, Big Sisters of C-K, hopes to see that reach $4,000.
Tickets for this draw will be sold in the park as well.
Stuckey said this is the 11th year for Bike Fest. It began at Duke's Harley-Davidson and moved to Tecumseh Park when it grew too large for the dealership's property.
Entertainment for the weekend is highlighted by the band Fighting Grace Friday night in the park, and Green River Revival, a CCR tribute band, Saturday night.
Area bike enthusiasts can take part in the escorted ride to start the day Saturday. Motorcycles will gather at Lally Ford in Tilbury and leave for a leisurely ride, complete with police escort, through Wheatley, Blenheim and into Chatham.
Registration at Lally Ford begins at 8:45 a.m., and the bikes roll out at 10 a.m.
The bikes will rumble into Chatham and park along King Street.
The King Street Commons in front of the Downtown Chatham Centre will be host to a bike display and showcase competition. There are cash prizes for best in show and people's choice.
New this year is the Test Our Metal event – where Duke's Harley-Davidson will bring in 30 new Harleys for people to take out for test drives. Riders are asked to bring proper riding gear and have their M2 licence.
Registration begins at 9 a.m. and test drives will take place on a first come, first serve basis.
Tecumseh Park will be alive with vendors and live music all day long, Stuckey said.
"It's a good, fun day in the park. There are lots of things to interest people," she said. "Whether you are a bike fan or not, it's cool to come down and check things out in the park."
Stuckey said she's particularly interested in the Saturday night main act, Green River Revival.
"I'm looking forward to that. It does kind of date us, but some of their (CCR's) main songs are pretty popular," she said.