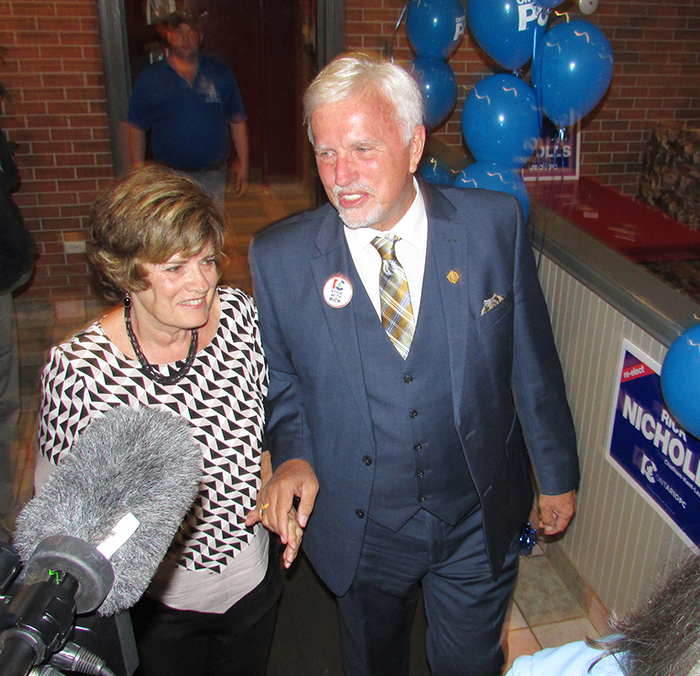 How does Rick Nicholls spell relief? Re-election and a PC majority.
For the third time since 2011, Chatham-Kent Leamington voters chose Nicholls as their representative at Queen's Park. Only this time, he'll be sitting on the other side of the Legislature, part of a Progressive Conservative majority government.
That's something the PCs haven't had since the previous century. They've been out of office since 2003 when the Liberals took over running the province.
Nicholls appeared tired but quite happy on election night.
"I took nothing for granted," he said, commending the candidates from the other parties – Jordan McGrail, NDP; Margaret Schleier Stahl, Liberal; and Mark Vercouteren, Green Party. "You don't run to the finish line, you run through it."
This year marked the use of electronic voting, and results came in quickly. Major media outlets posted a PC majority 20 minutes after the polls closed, and gave Nicholls the riding about that time as well.
The numbers were a bit slower for Lambton-Kent-Middlesex, where Monte McNaughton returns to office. He too will now sit in power as opposed to opposition.
Nicholls looks forward to the change.
"The view's going to be a whole lot different," he said. "And the NDP is the Official Opposition. The Liberals totally collapsed."
McNaughton thanked his supporters for re-electing him.
"I am truly humbled. Thank you to the voters in Lambton-Kent-Middlesex for re-electing me to serve you for four years in an Ontario PC majority government," he said via Twitter.
Nicholls said the campaign this time around had a very different feel than in the past, attributing it to the general Liberal collapse.
"The NDP surged. It became a two-party race," he said.
McGrail supporter and campaign volunteer Bill Zilio wasn't able to contain his disappointment with the results in C-K L.
"I'm disappointed. I think Jordan has worked harder than anybody and has pounded the pavement every day," Zilio said from McGrail's campaign after party at Frendz in Chatham. "I don't know what we could have done different. Everybody worked hard and we had more volunteers than we ever had and we had a great campaign team. I'm just baffled."
Nicholls expects the government to hit the ground running, and predicts it will trample the Green Energy Act.
"We will scrap the Green Energy Act," he pledged. "We will put a moratorium on wind turbine development in Ontario."
Nicholls said other local issues that need addressing include ensuring the concrete barriers are placed along Highway 401, and possibly twinning portions of Talbot Trail.
"We need to be smart about it. It will take time to sort things out," he said.
Nicholls said party leader Doug Ford will have some challenges choosing his cabinet.
"This is a great, strong caucus," he said.